Map of Alaska showing Seward to Anchorage.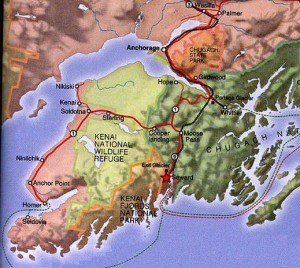 Link to map of Alaska with towns
Greetings from Vancouver, CA!

Hotel in Vancouver-  Pan Pacific Hotel at Canada Place
We arrived in Vancouver late on Monday, August 18. By the time we got to our hotel it was about 12:30AM Tuesday. We slept in Tuesday morning.
Tuesday 8/19/14  Once we got up and moving around we discovered a really beautiful area. Looking out our hotel window we watched float planes moving in and out. We got out of the hotel early afternoon and walked down the walkway along the water. Eventually we turned and went back the other way and went past the convention center and found a cafe with outdoor seating and had lunch with a beautiful view. After lunch we walked down the water walkway in the opposite direction as far as it went. Stopped several times to watch the float planes and took a few pictures.
Wednesday 8/20  We got out a little earlier today and bought a 2 day pass for the HOHO trolley and stayed on for the whole loop. It had 32 stops and covered all of downtown, Stanley Park and Granville Island. The full circle was about 2 1/2 hours, After we got off the trolley we walked around until we decided it was time for something to eat.
Tomorrow we will probably go back to Stanley park to walk around and take pictures. It is a huge and beautiful park. From there we plan to go to Gastown which is a thriving historical district.
Stanley Park is named for Lord Frederick Stanley, Governor General of Canada in 1888, the City opened Stanley Park on September 27 of that year. 
This is really a beautiful city. A few pictures here.

Vancouver BC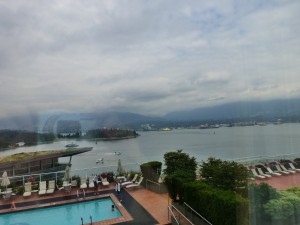 ©2014 Jeannie Wehrman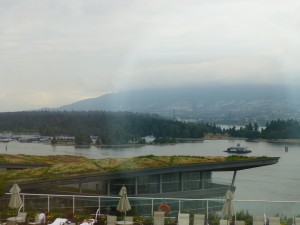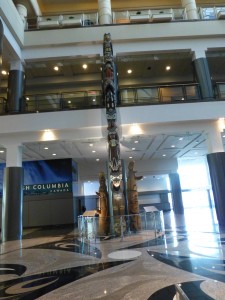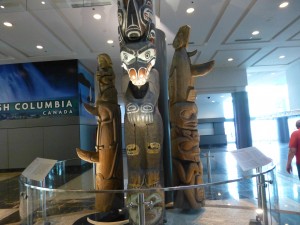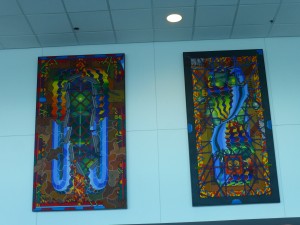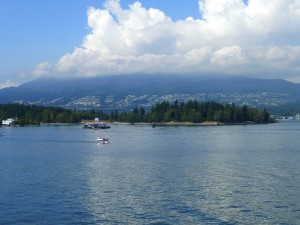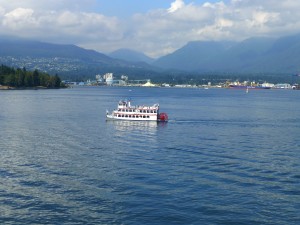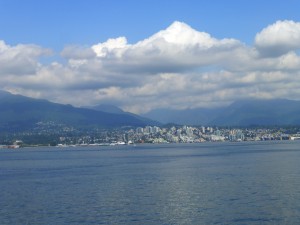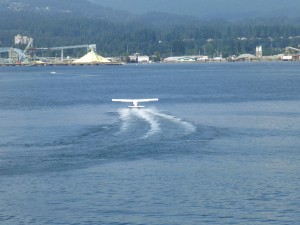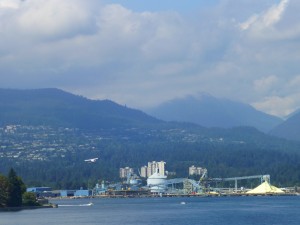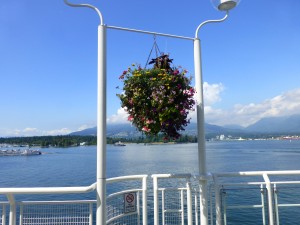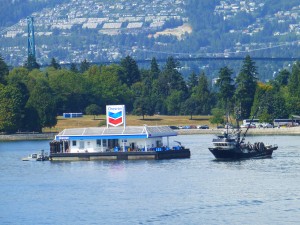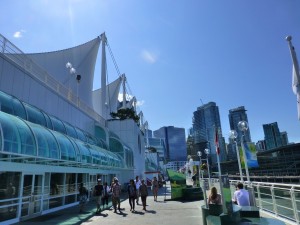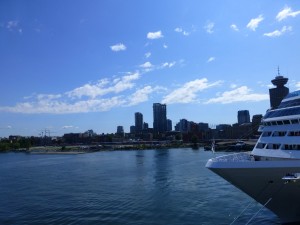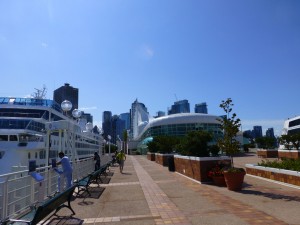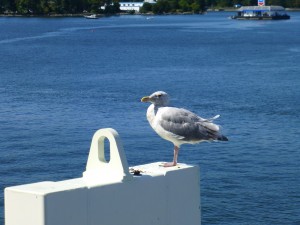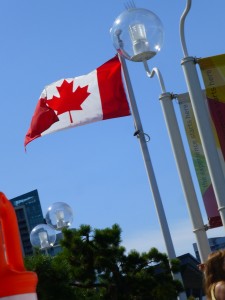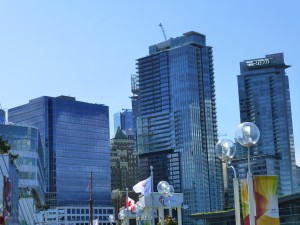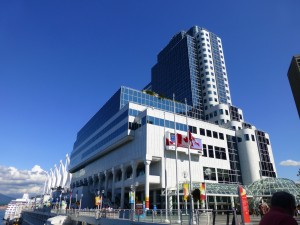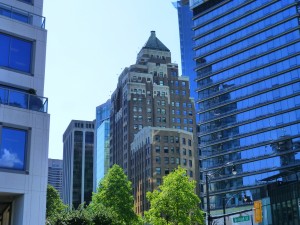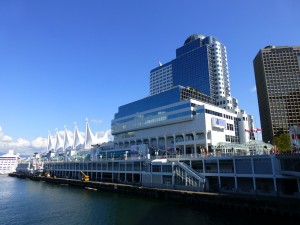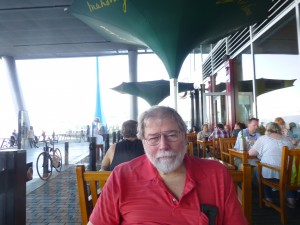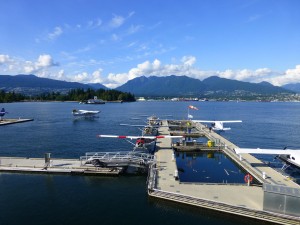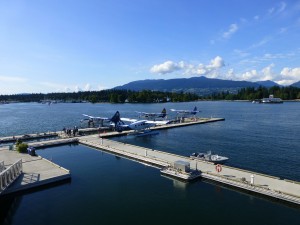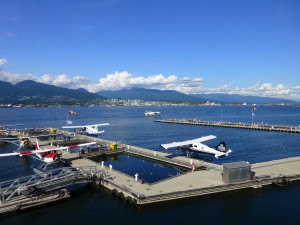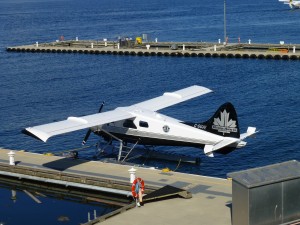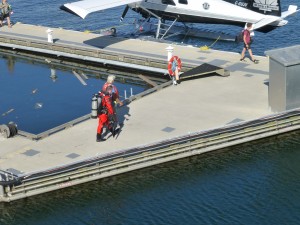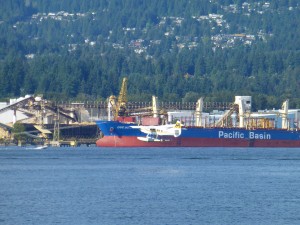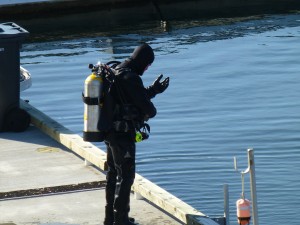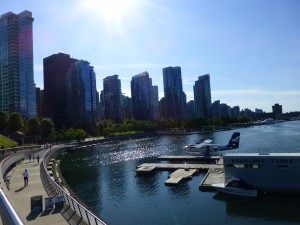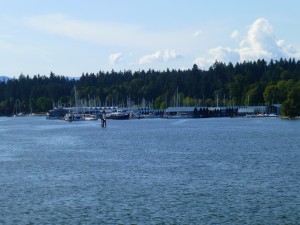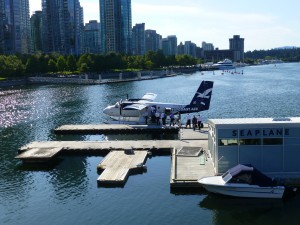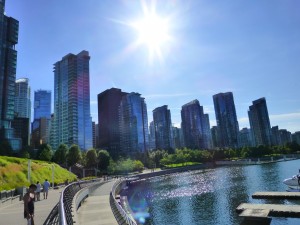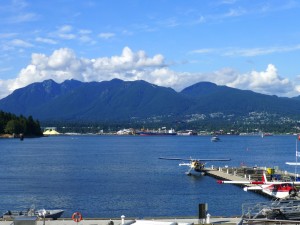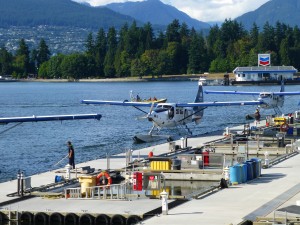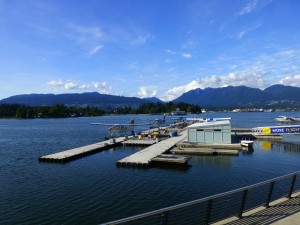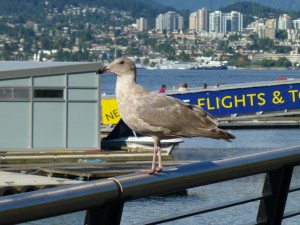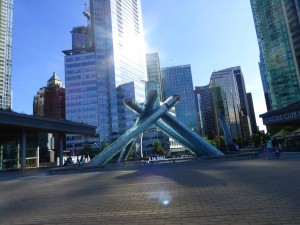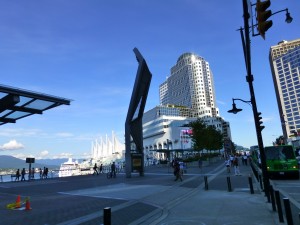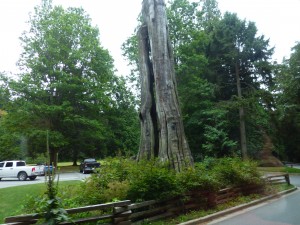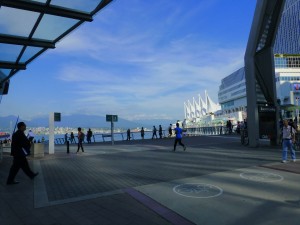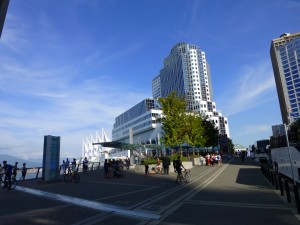 Pictures for Thursday 08/21/14 Vancouver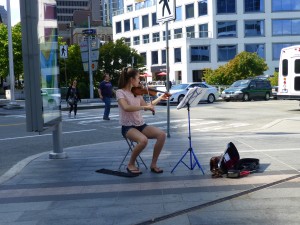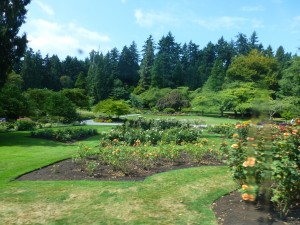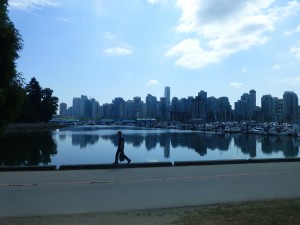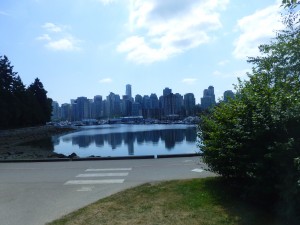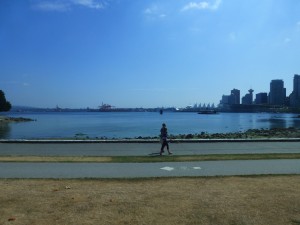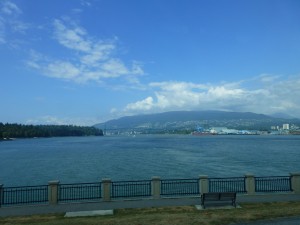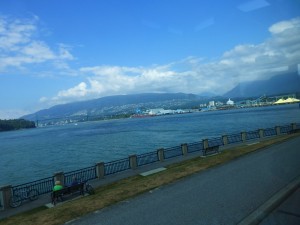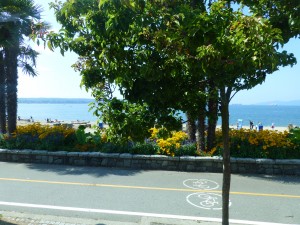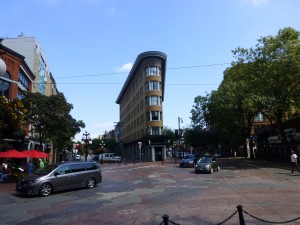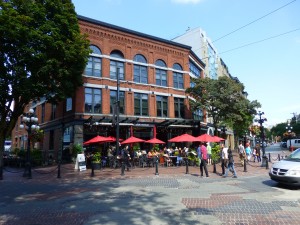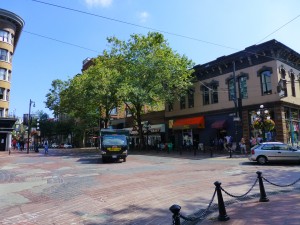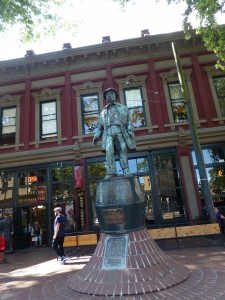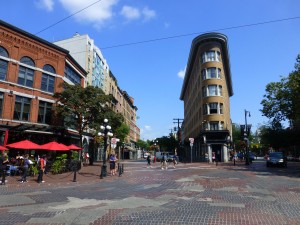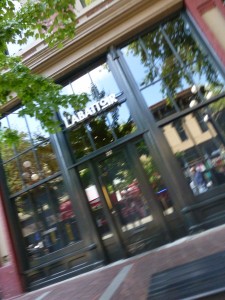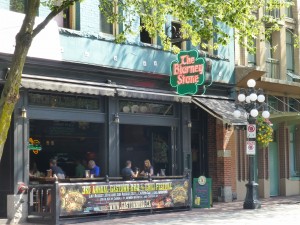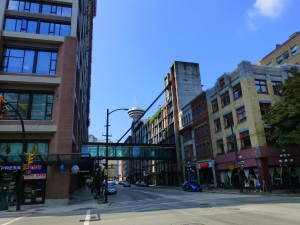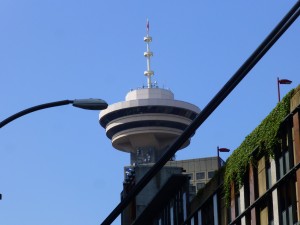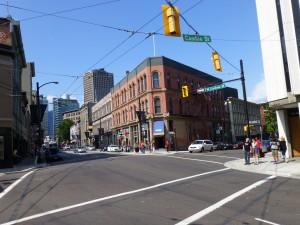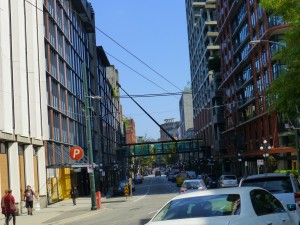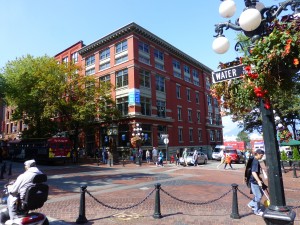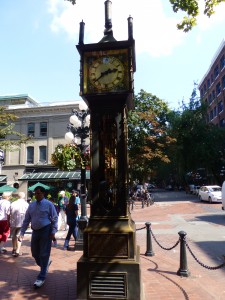 This is an actual steam operated clock.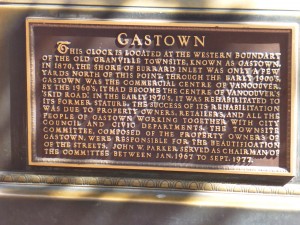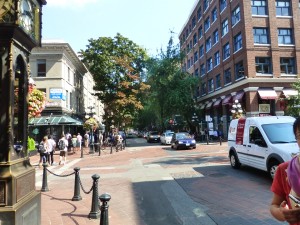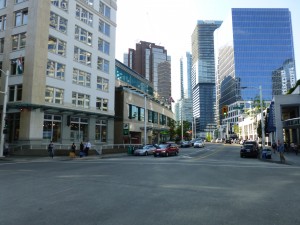 August 22 – August 29, 2014 RC Radiance Of The Sea
Ports of call: 
Vancouver, British Columbia; Inside Passage (Cruising); Ketchikan, Alaska; Icy Strait Point, Alaska; Juneau, Alaska; Skagway, Alaska; Hubbard Glacier (Cruising); Seward, Alaska
For Ketchikan we had booked a helicopter, it was the #1 thing I wanted to do. Unfortunately our helicopter tour did not  happen. Ryan met us and said the heli had a problem and he was waiting for parts but did not know what time they would get there. Ryan asked if we would be interested in going on  a float plane instead, the pilot was available. We were driven to the float plane, and ended up taking lots of pictures from the air. 
If you want to see the float plane on YouTube click here.
Ketchikan Alaska by float plane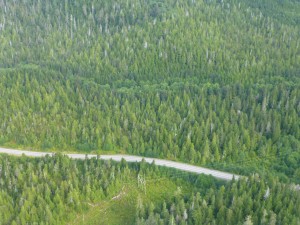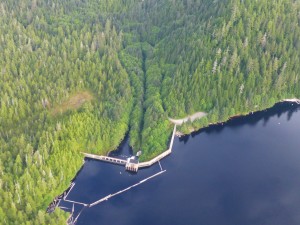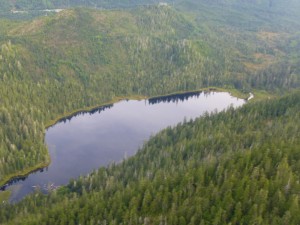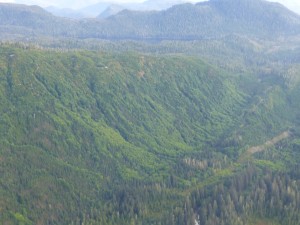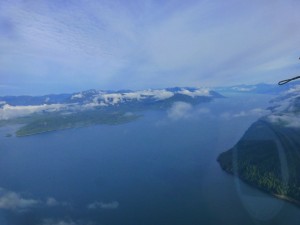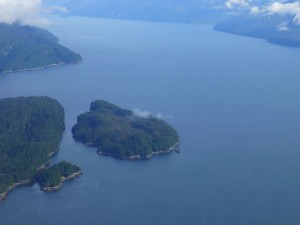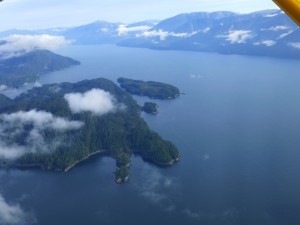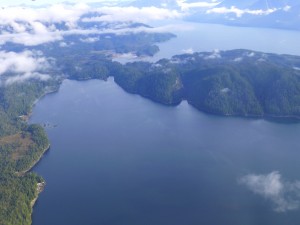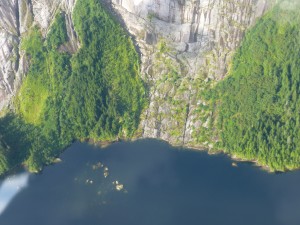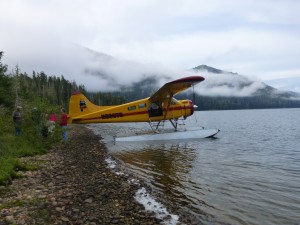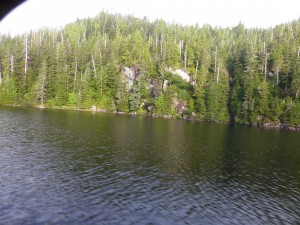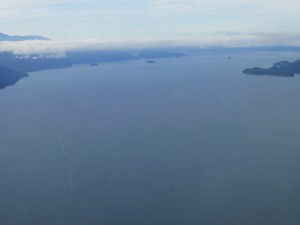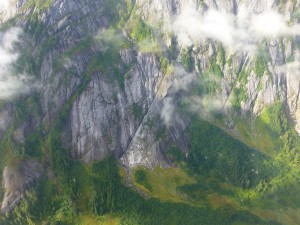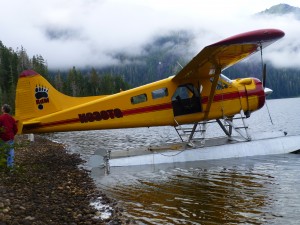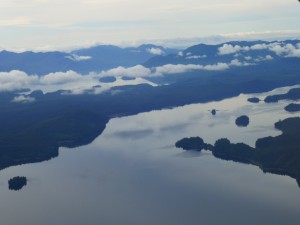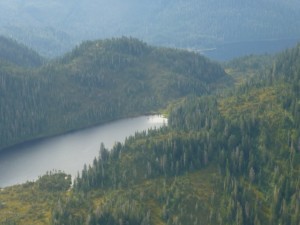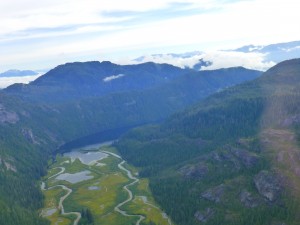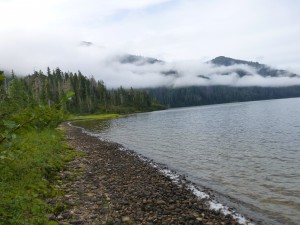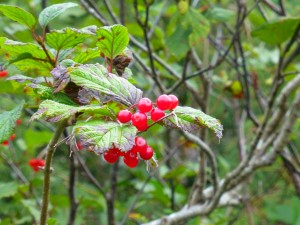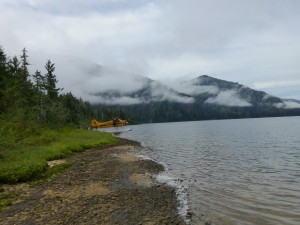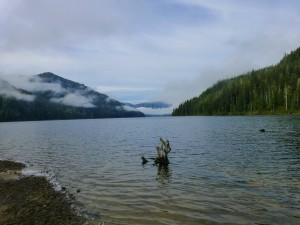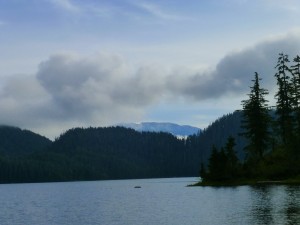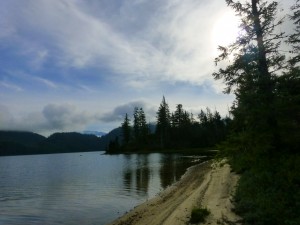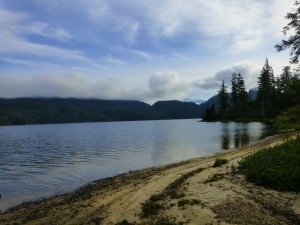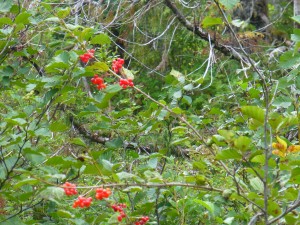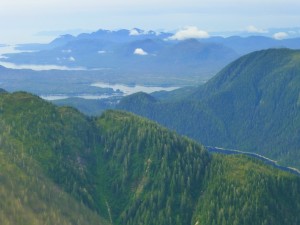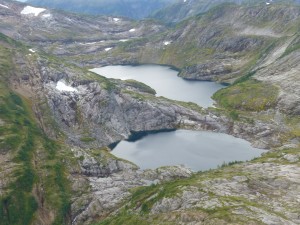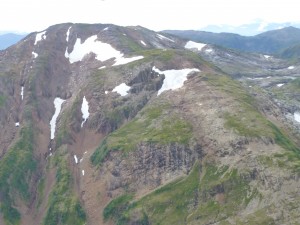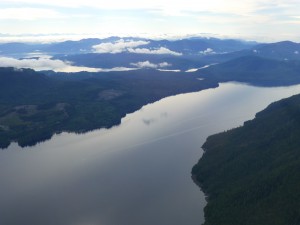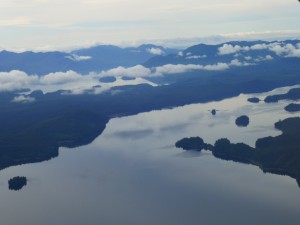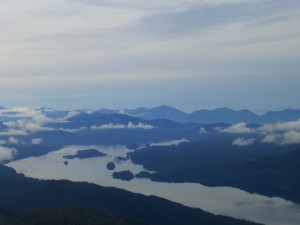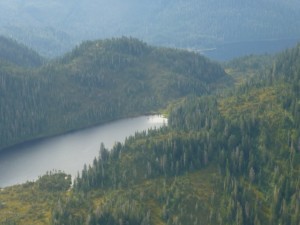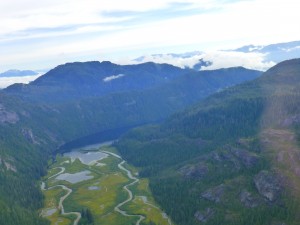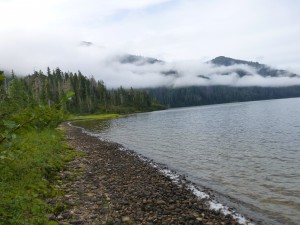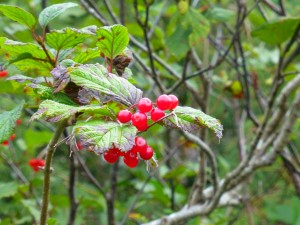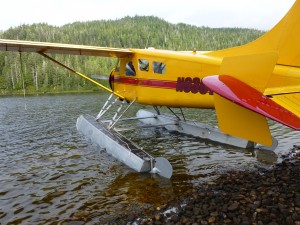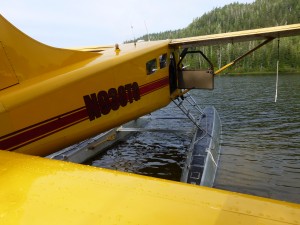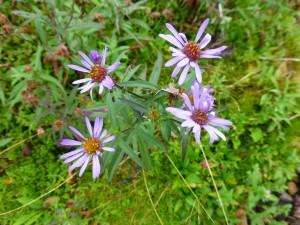 Definitely not the flight that the helicopter would have been. In a helicopter you see much more freely, you feel like there is no barrier at all. It's just such an awesome experience in a helicopter.
After the helicopter  float plane tour we went Potlatch Totem Park Ketchikan to see some of the totem poles.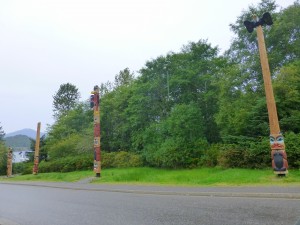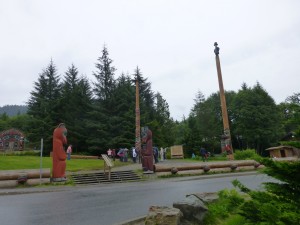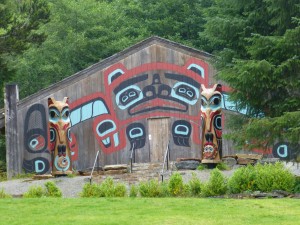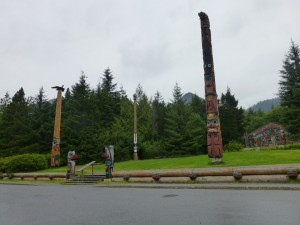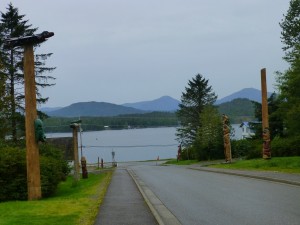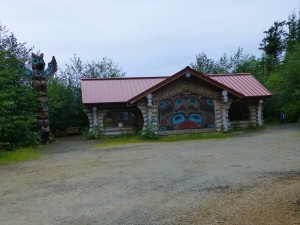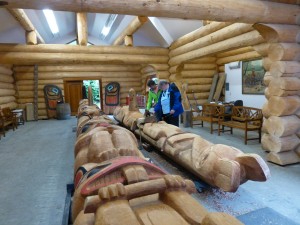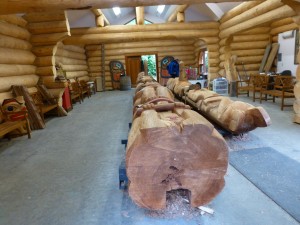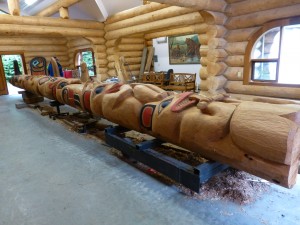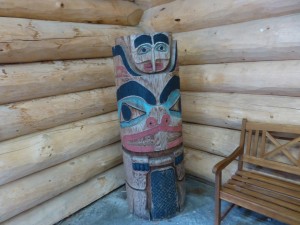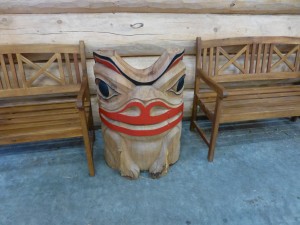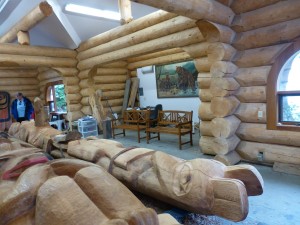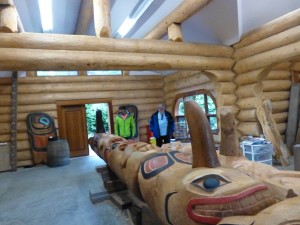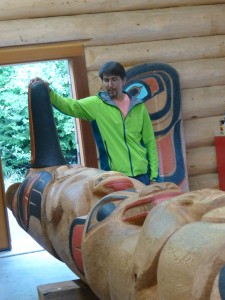 This is Art. He took us around to see the totems, and told us about the meanings and how they are carved. The two large totems in  these pictures are over 30 feet tall.  One is almost complete, the other will take about a year longer to be complete.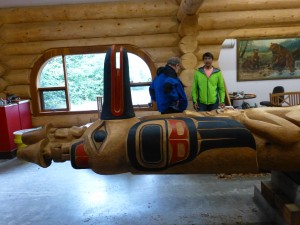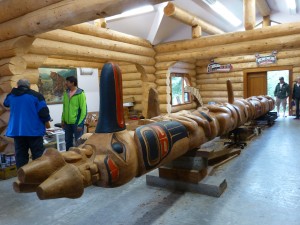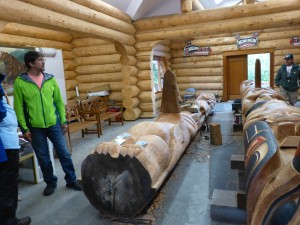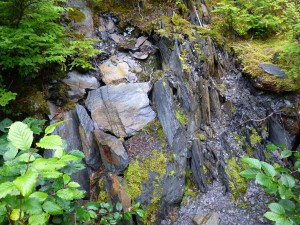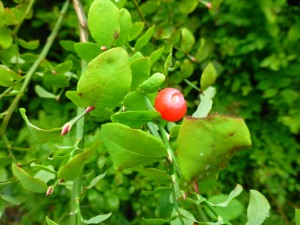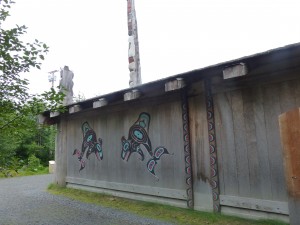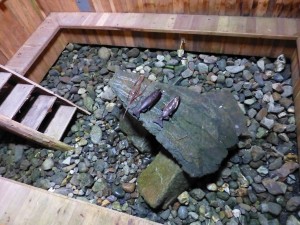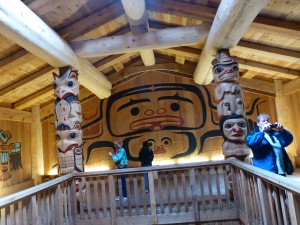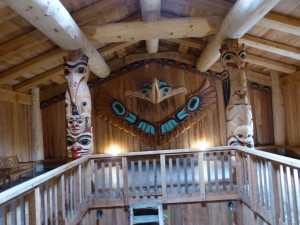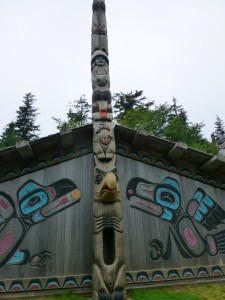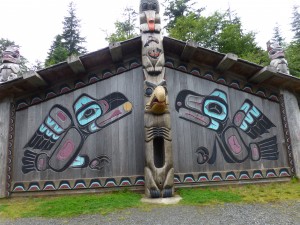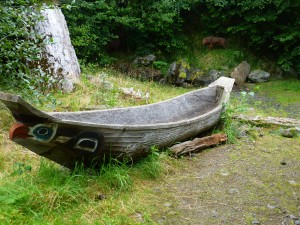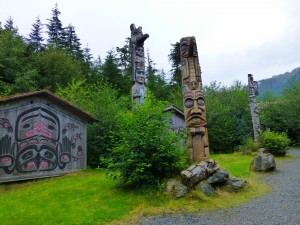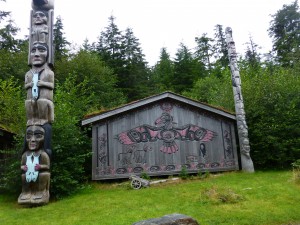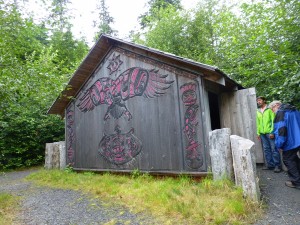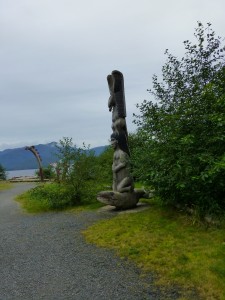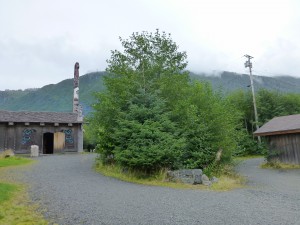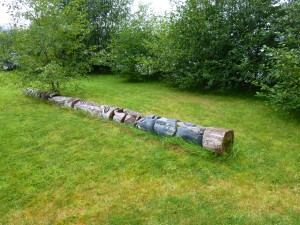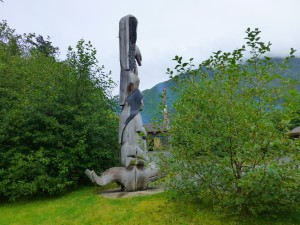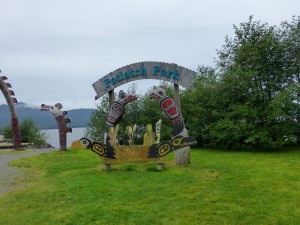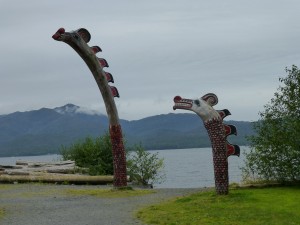 Jim checking out the small antique car collection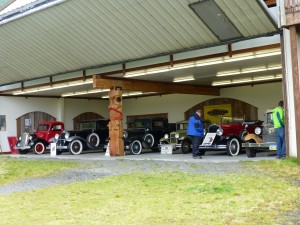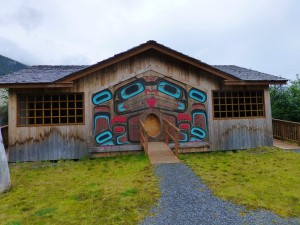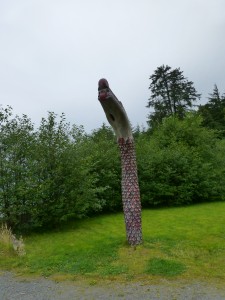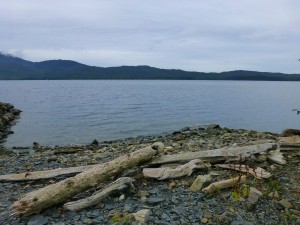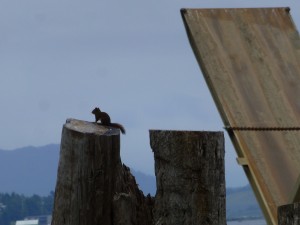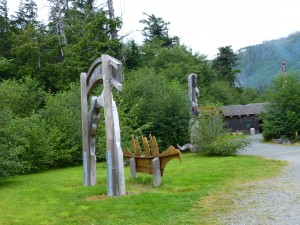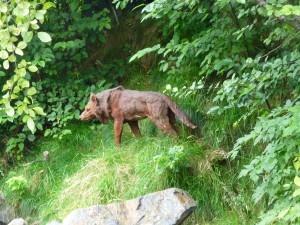 Icy Strait Point- We just walked around a bit and watched the zipliners, had lunch and went back to the ship.
Icy Strait Point, as it is today, was built for the cruise ship industry.  When the large fish cannery closed, it was the only industry.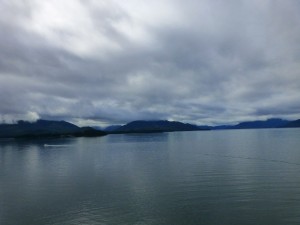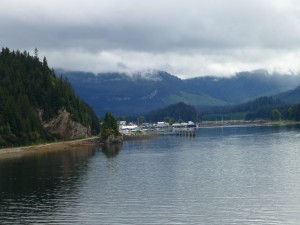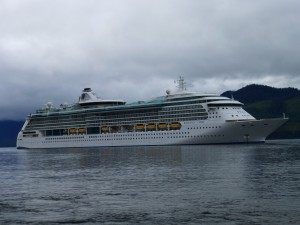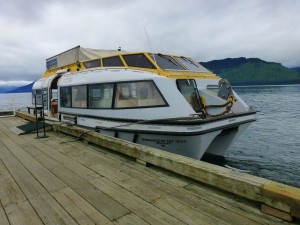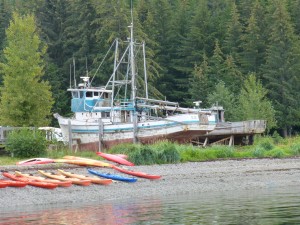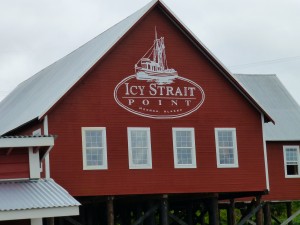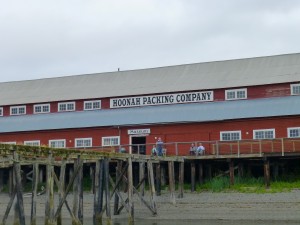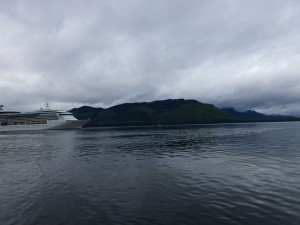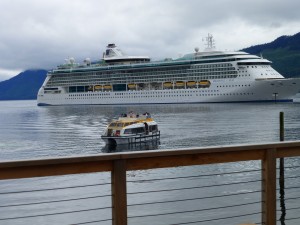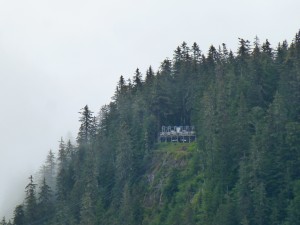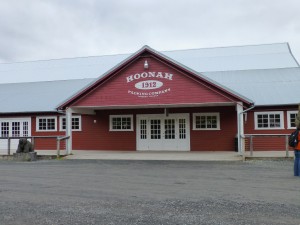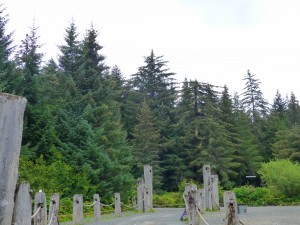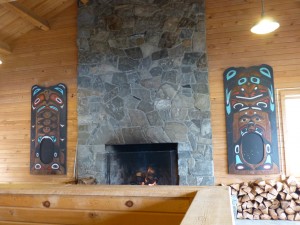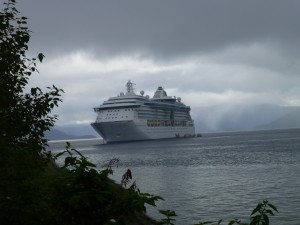 Radiance Of The Sea, our ship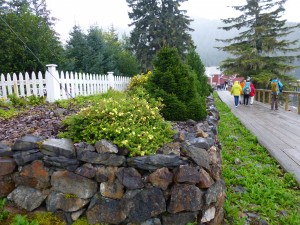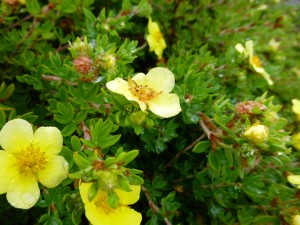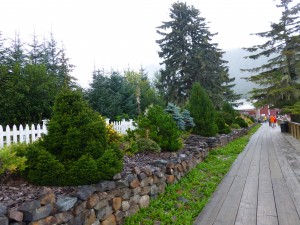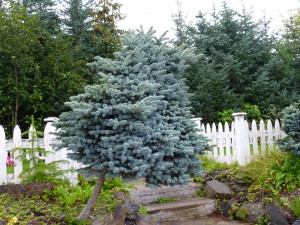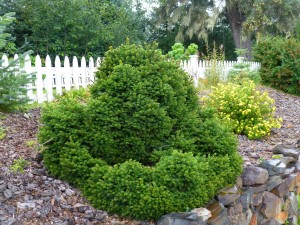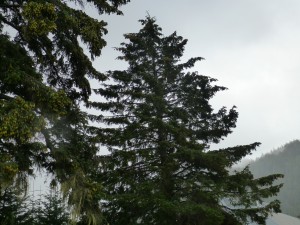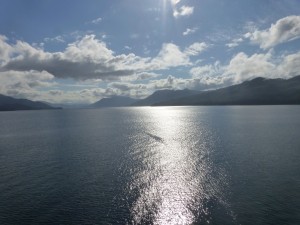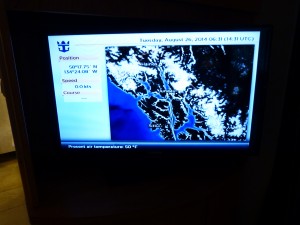 Juneau Alaska- We had a 6 1/4 hour tour booked for glacier and whale watching. The fog and low clouds did not cooperate too much. Towards the end we did have some whales that were playing around and jumping, but we just were not fast enough to get the pictures. Maybe when Jim goes through his pictures he will find some.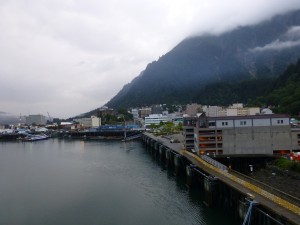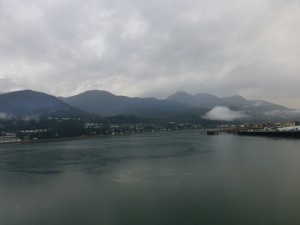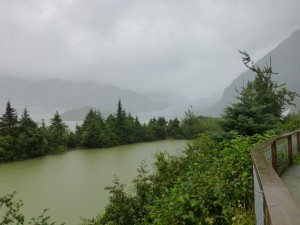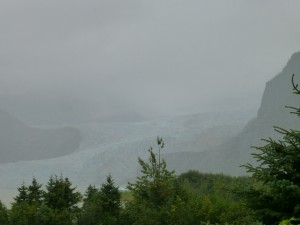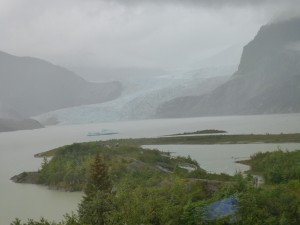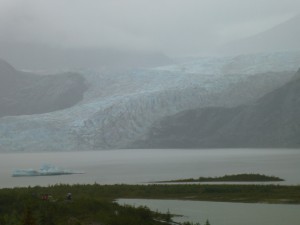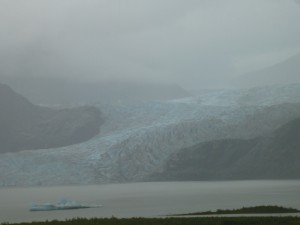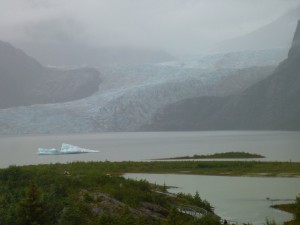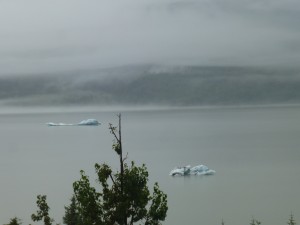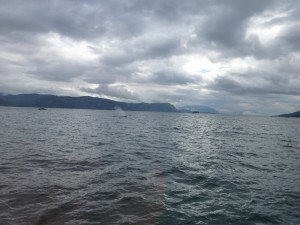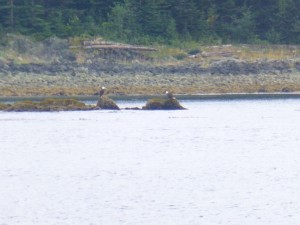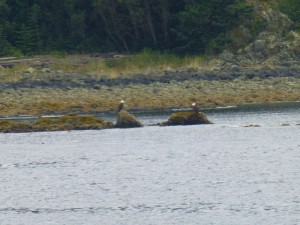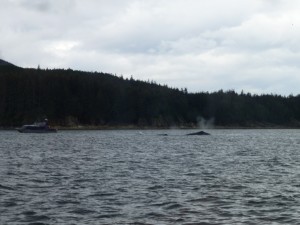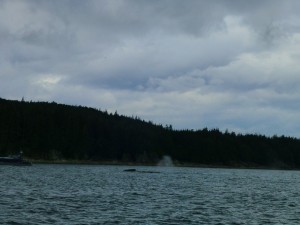 Skagway- Another place that exists for the brief tourist season.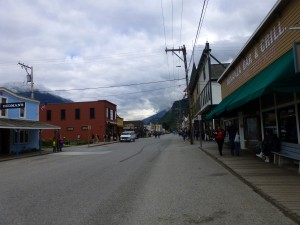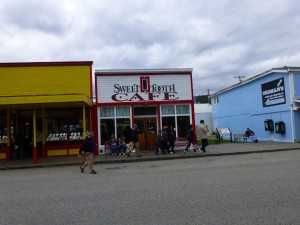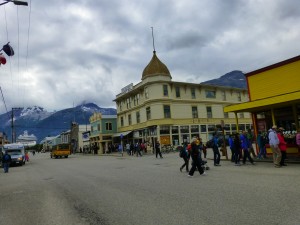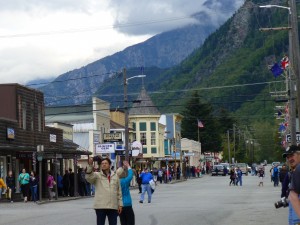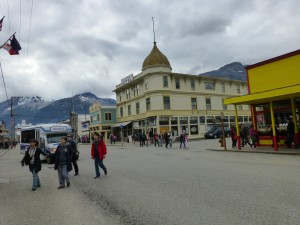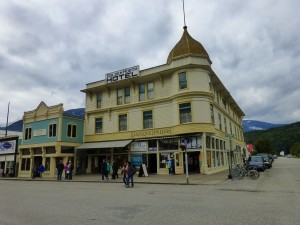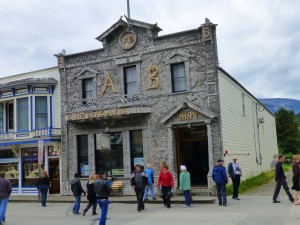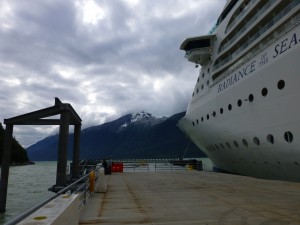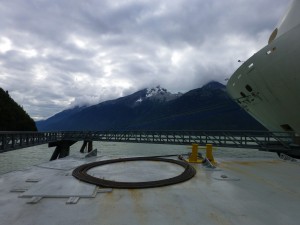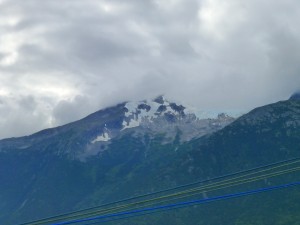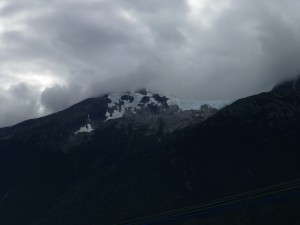 Back in our cabin, our steward left us a towel frog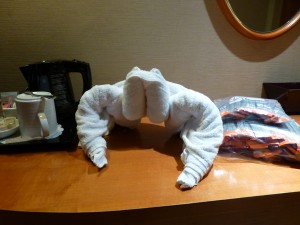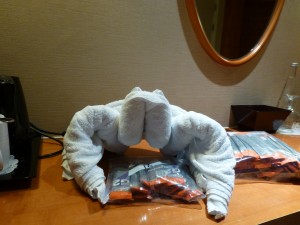 Hubbard Glacier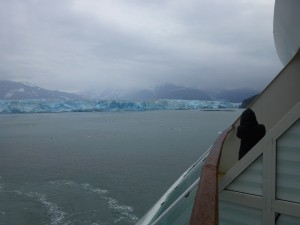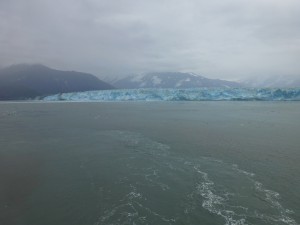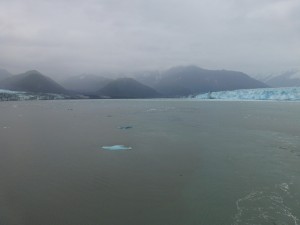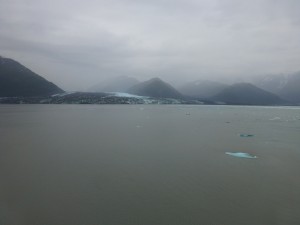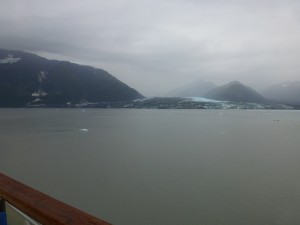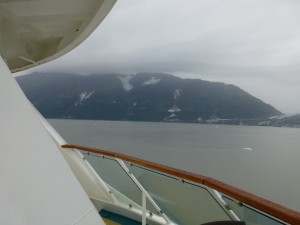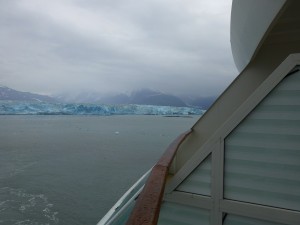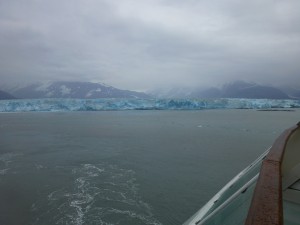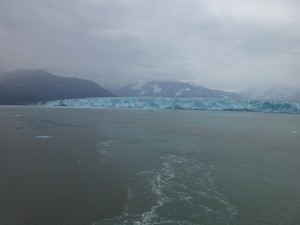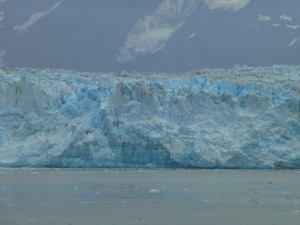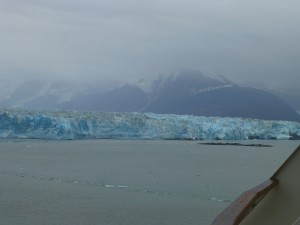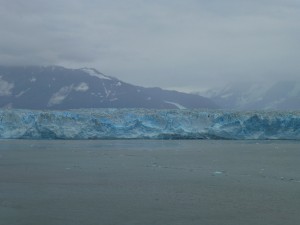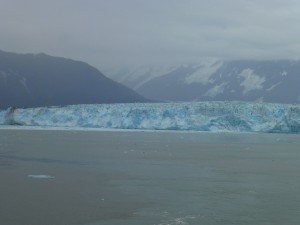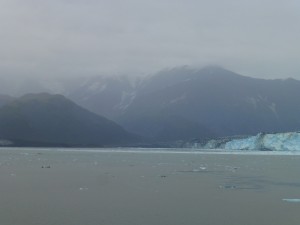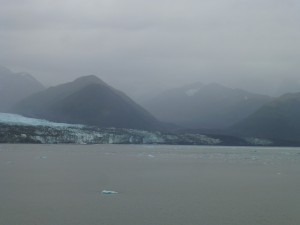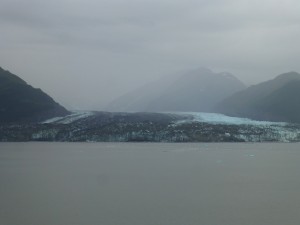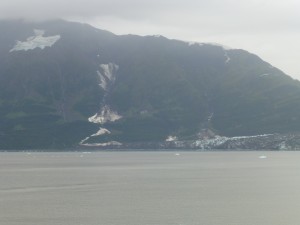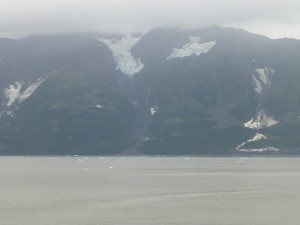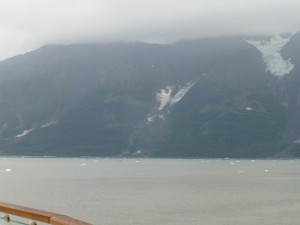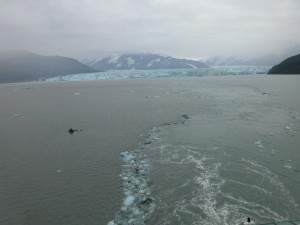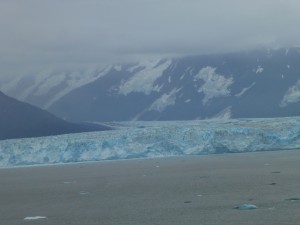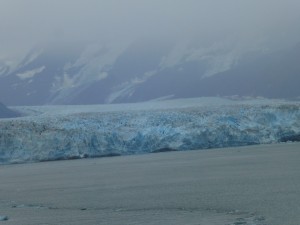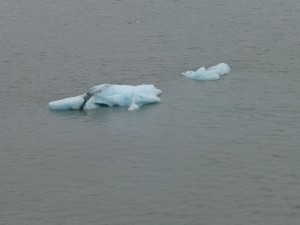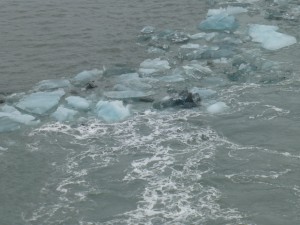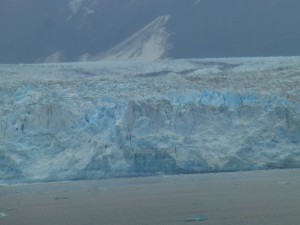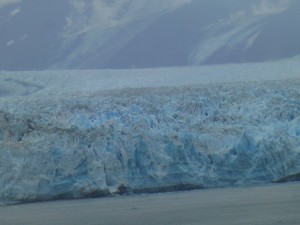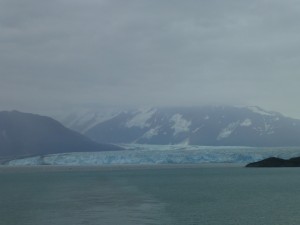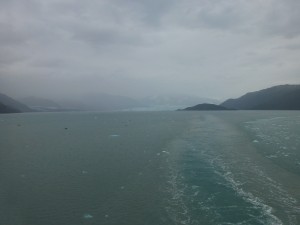 Seward, We disembarked Radiance, left our luggage at our hotel and went on this tour.  National Park and Kenai Fjords tour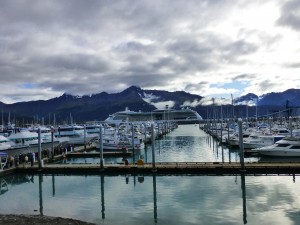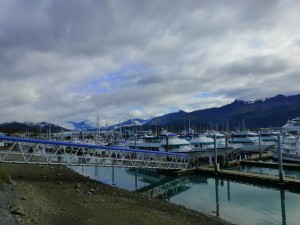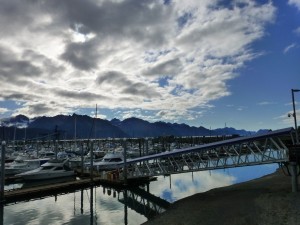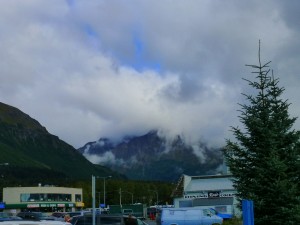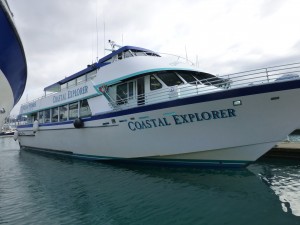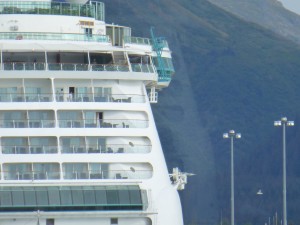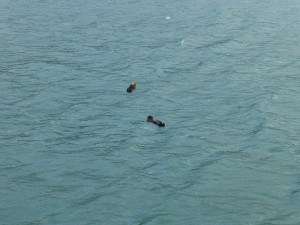 Sea otter doing the back stroke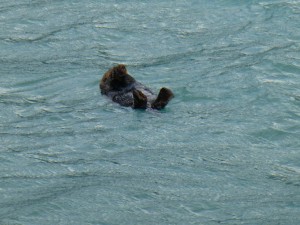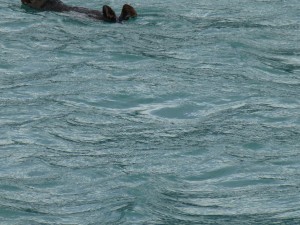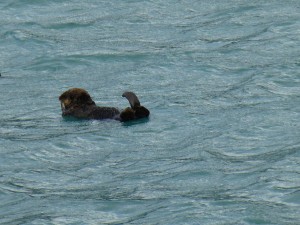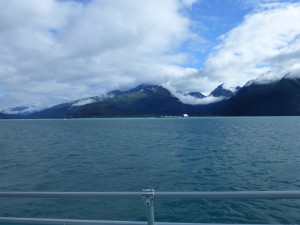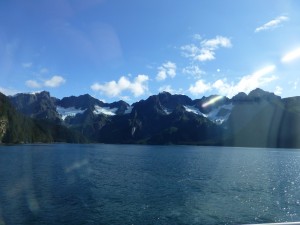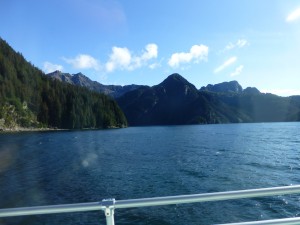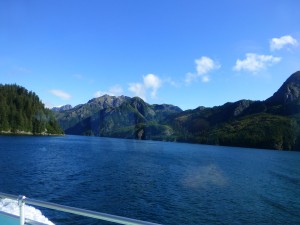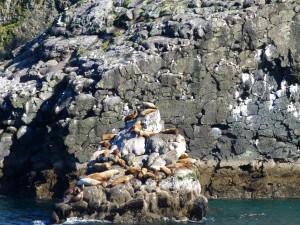 My love of rock was not disappointed here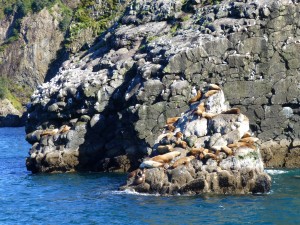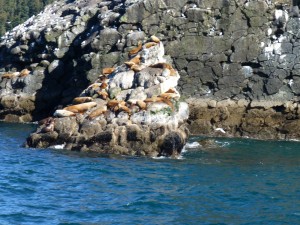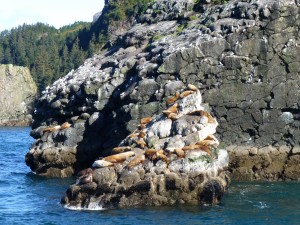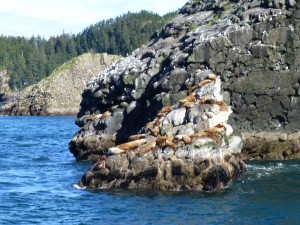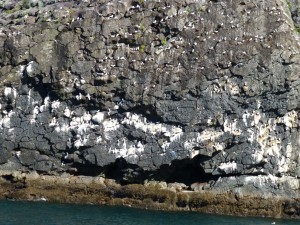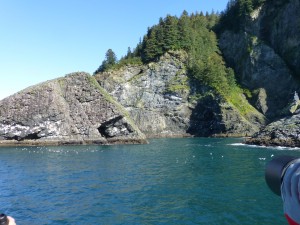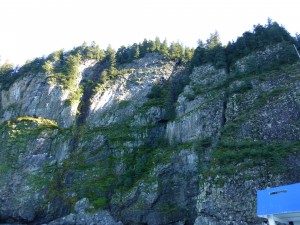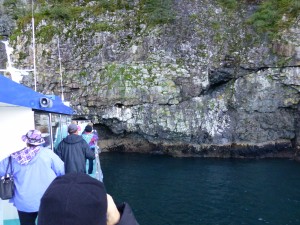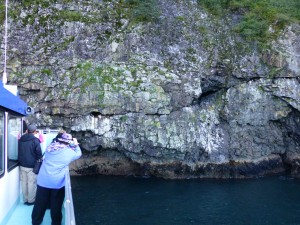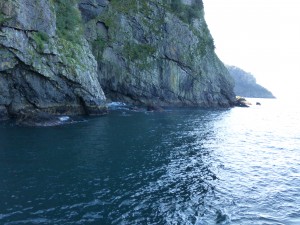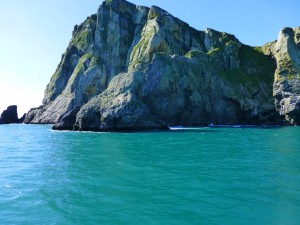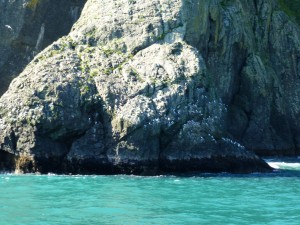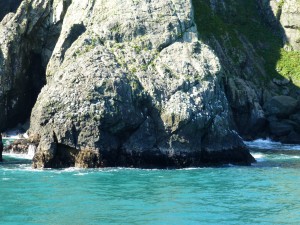 Looks like an elephant foot to me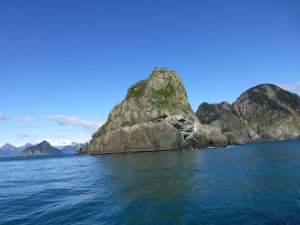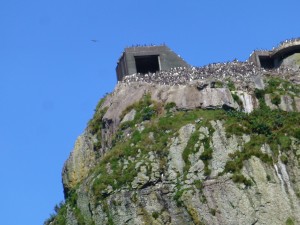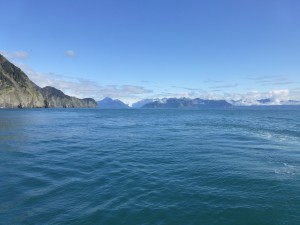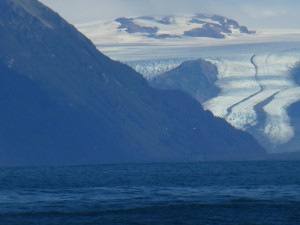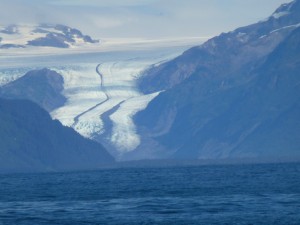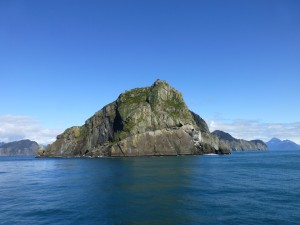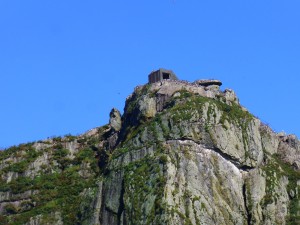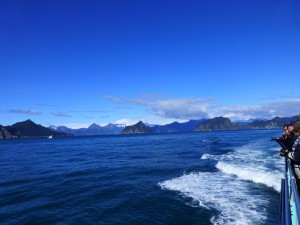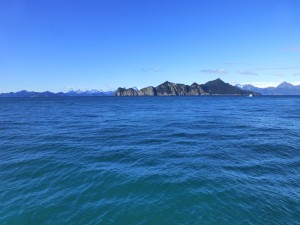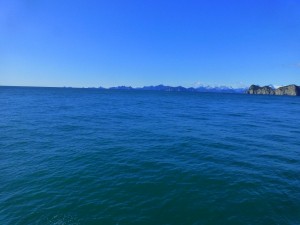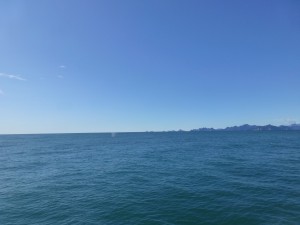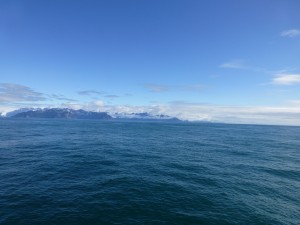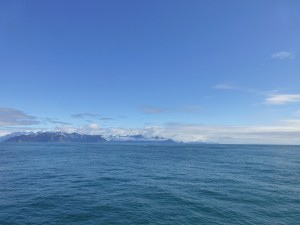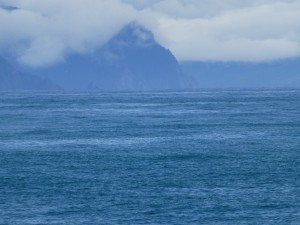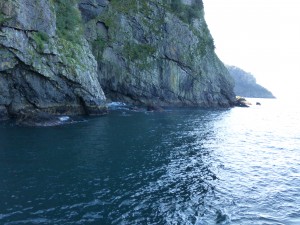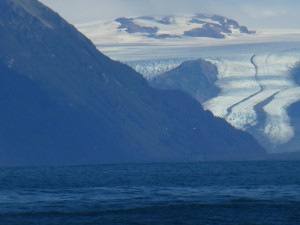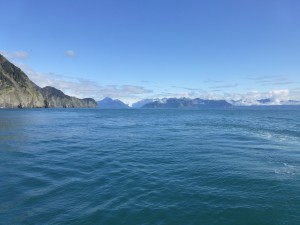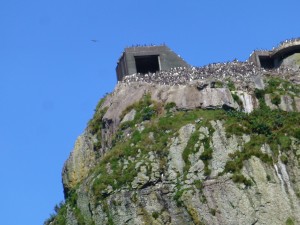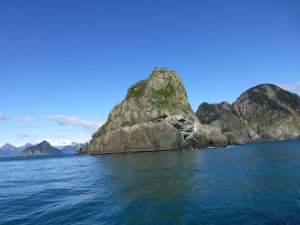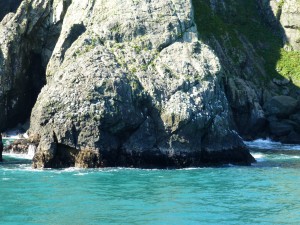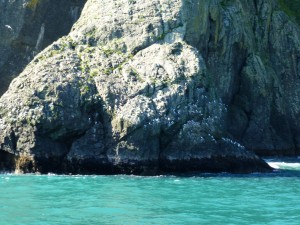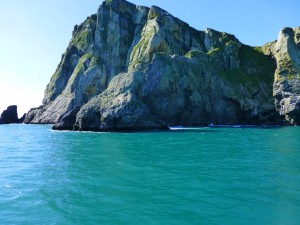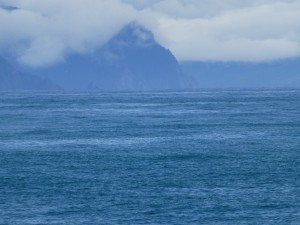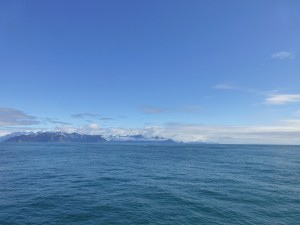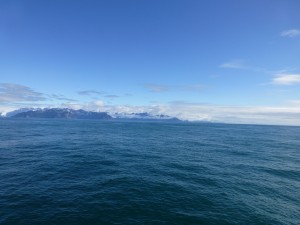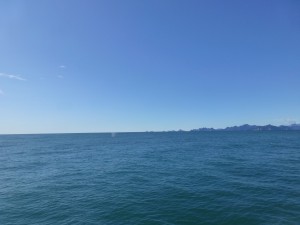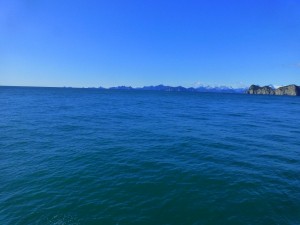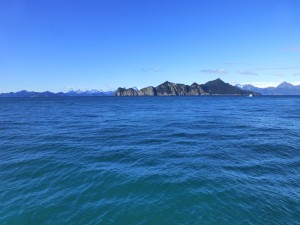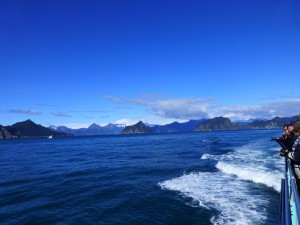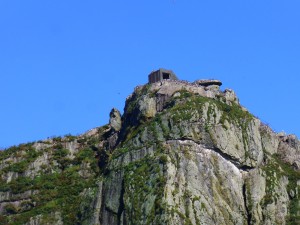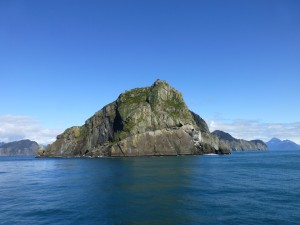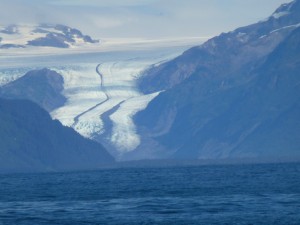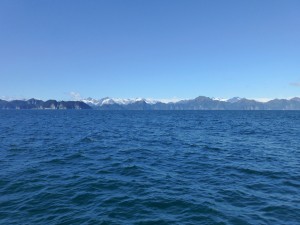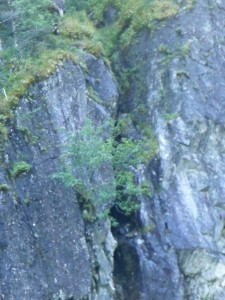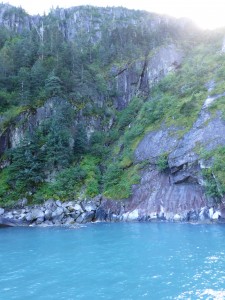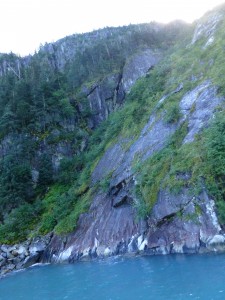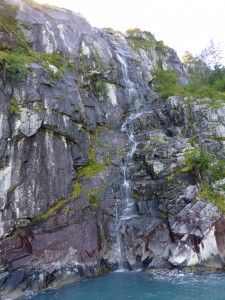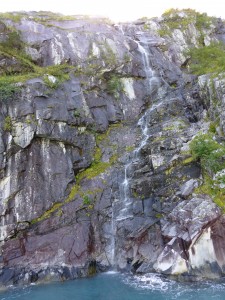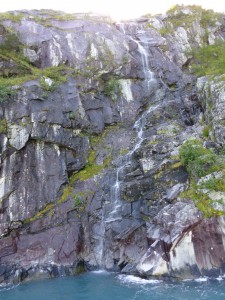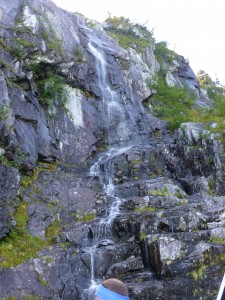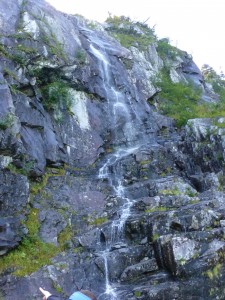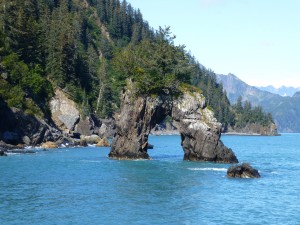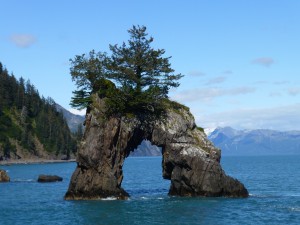 I love this!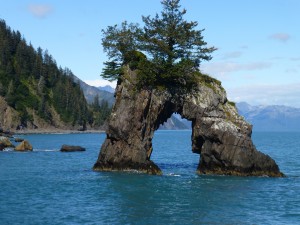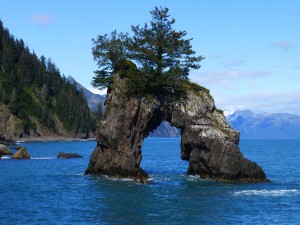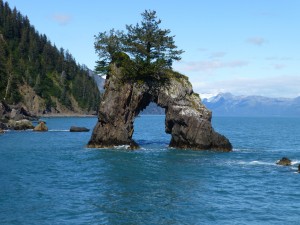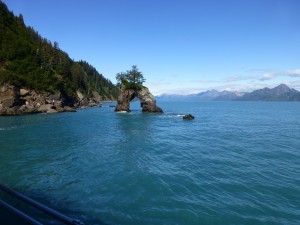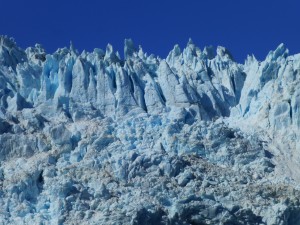 Close view of a Kenai Fjord glacier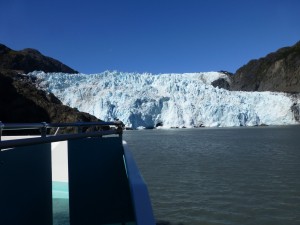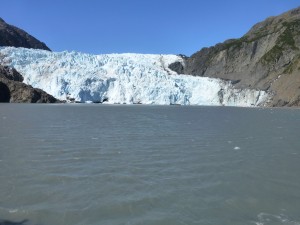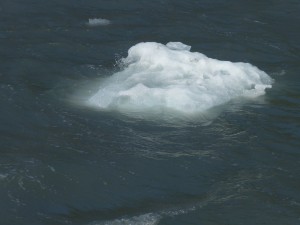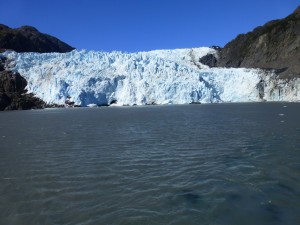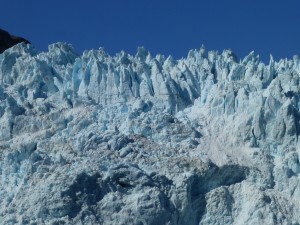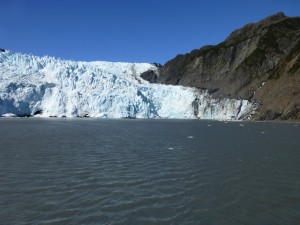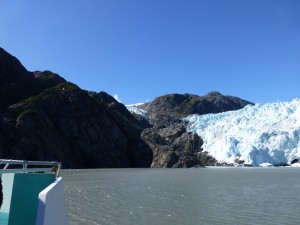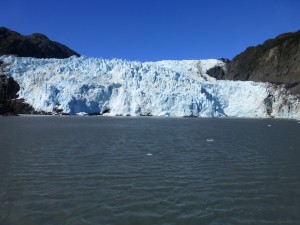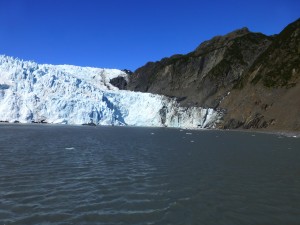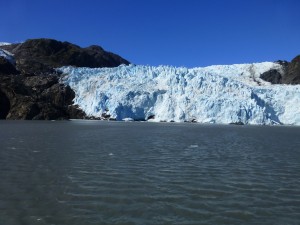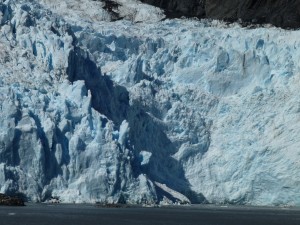 Even closer view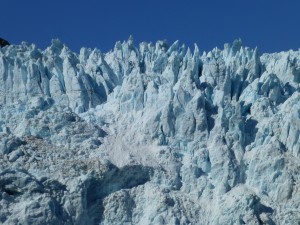 Our view of the glaciers was so much better in this smaller boat.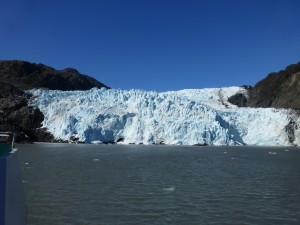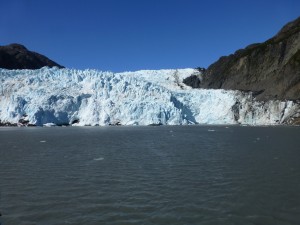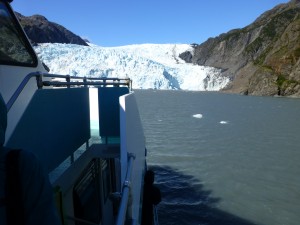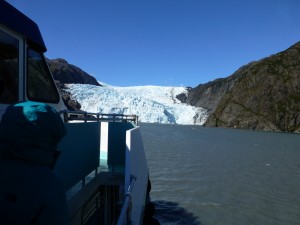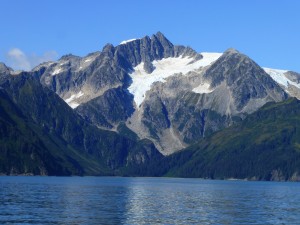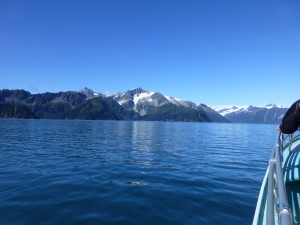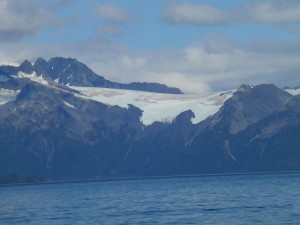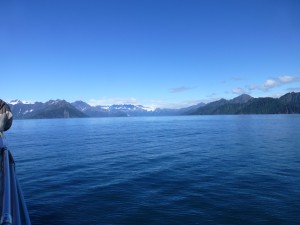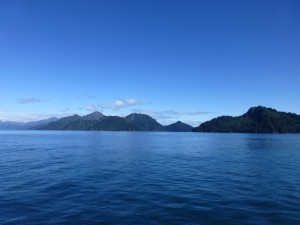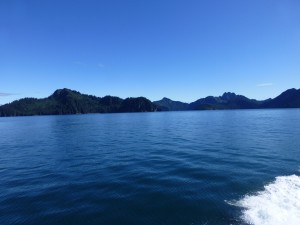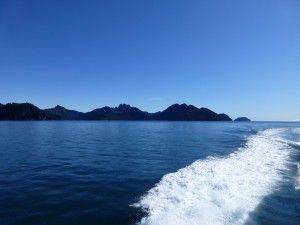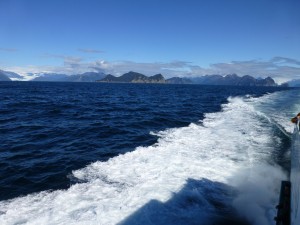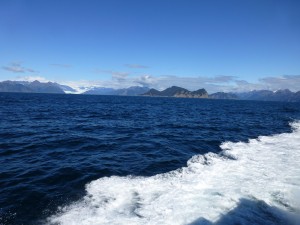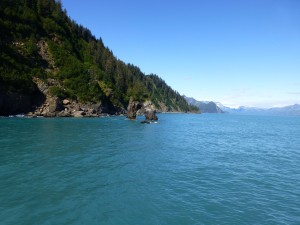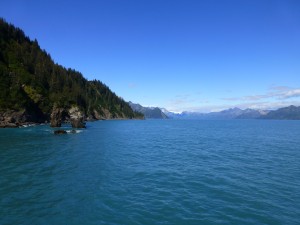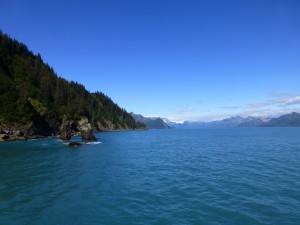 Just a note, below are a few (earlier) random pictures on (or from) the ship. Also shows bridge we were going under when leaving Vancouver.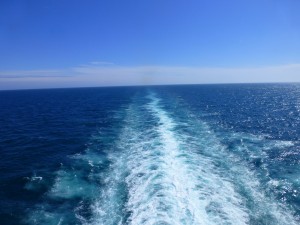 From our balcony, love the rear facing afts cabins.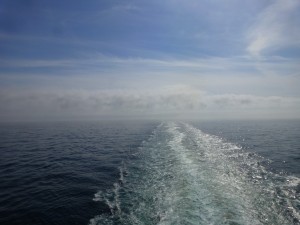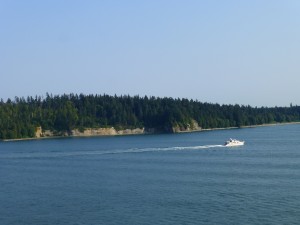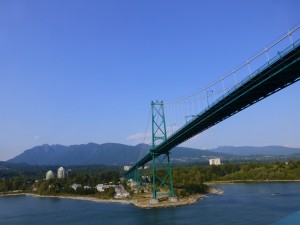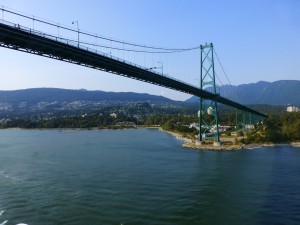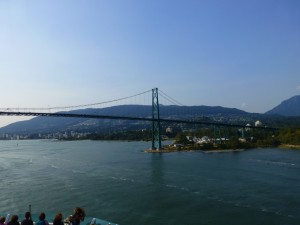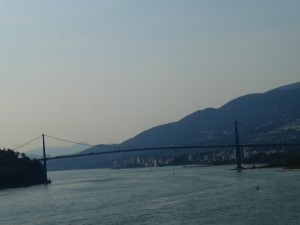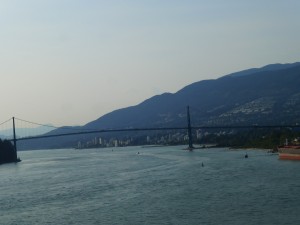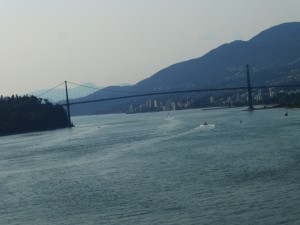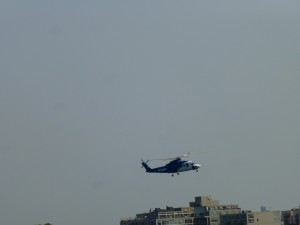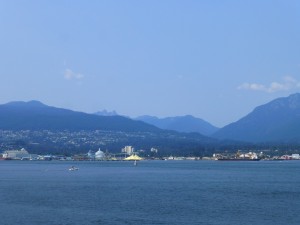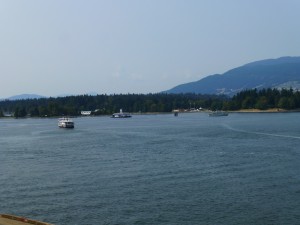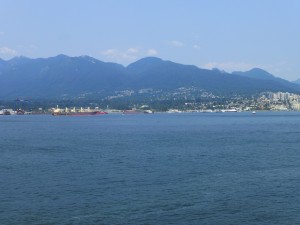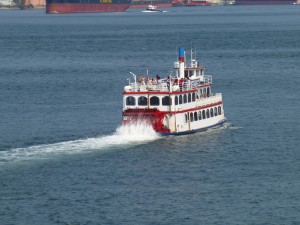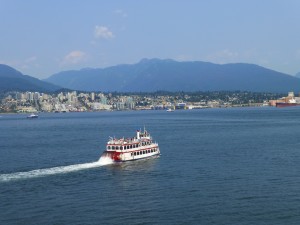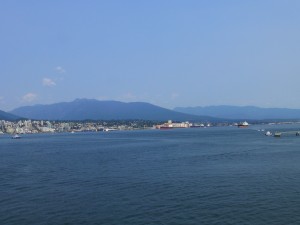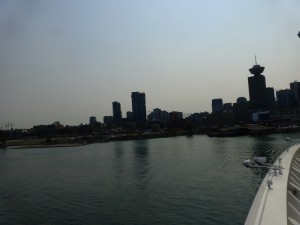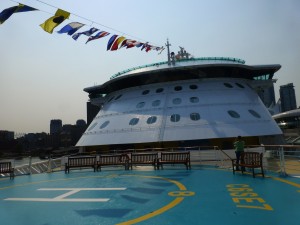 Radiance Of The Sea, looking down at the Centrium.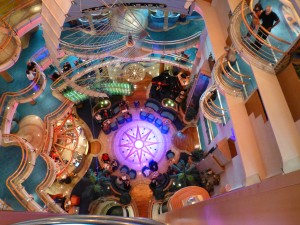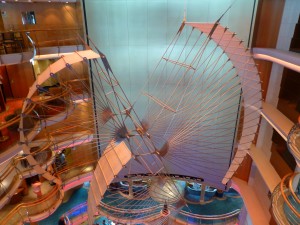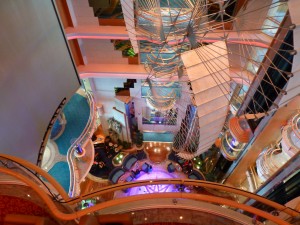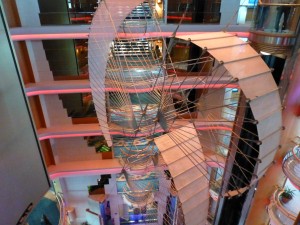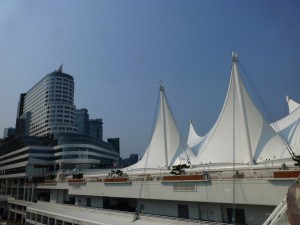 Canada Place, Vancouver.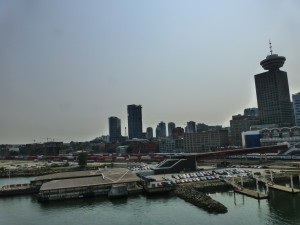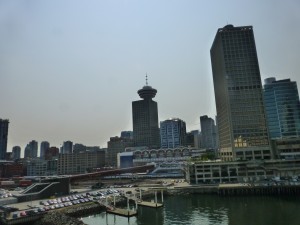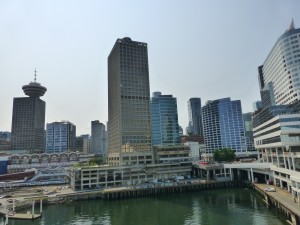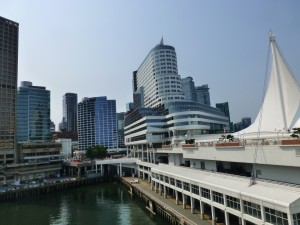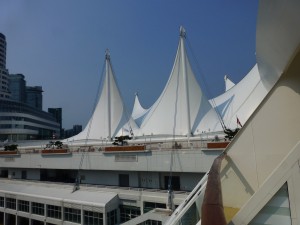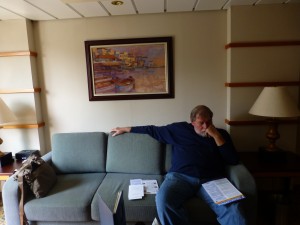 Our cabin on Radiance Of The Sea.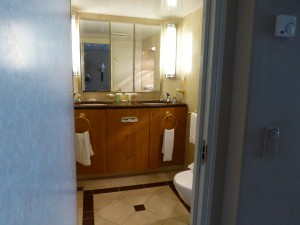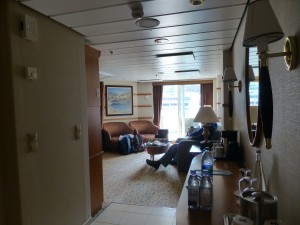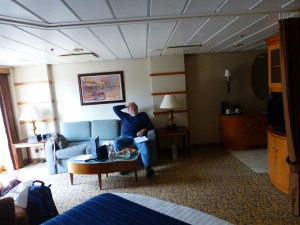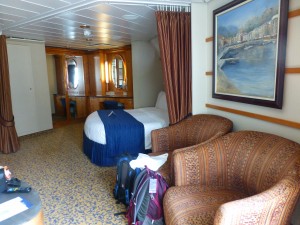 After disembarkation we will spend two weeks traveling in Alaska by rail.      Alaska Railroad
9/1/2014 The town of Seward where we left the ship to begin our DIY tour by train.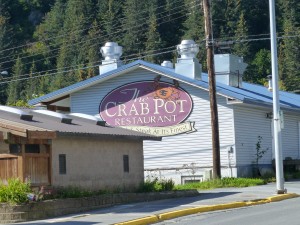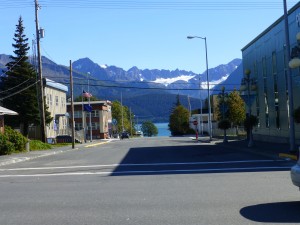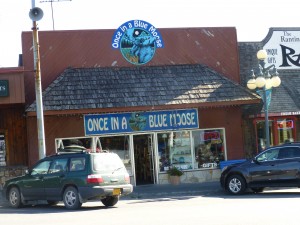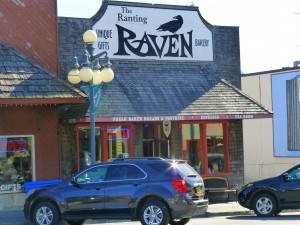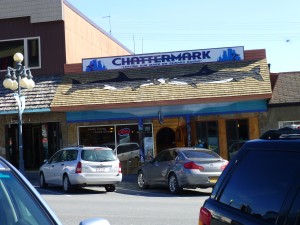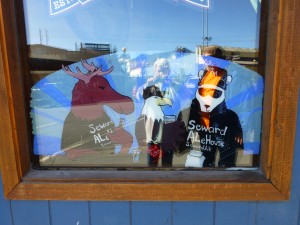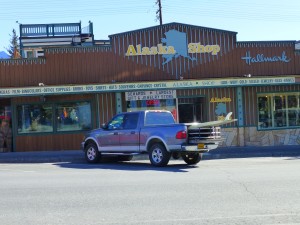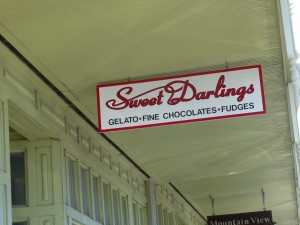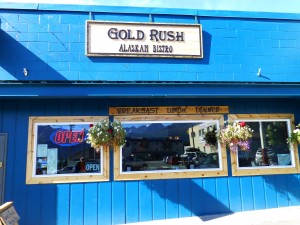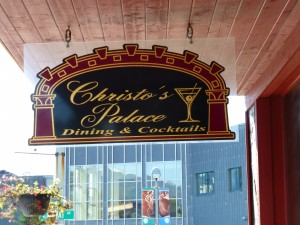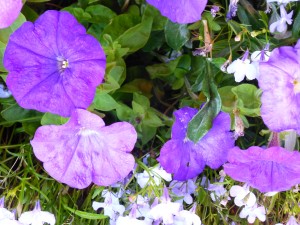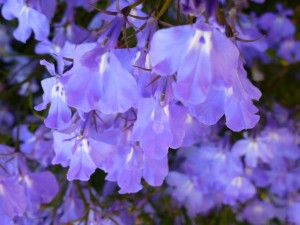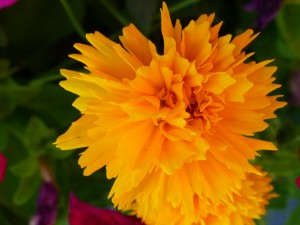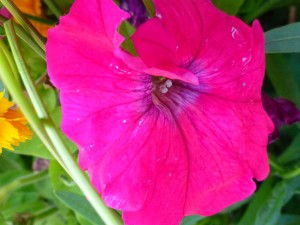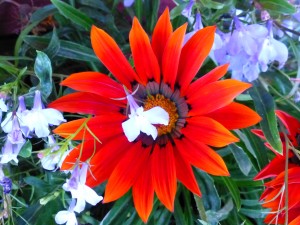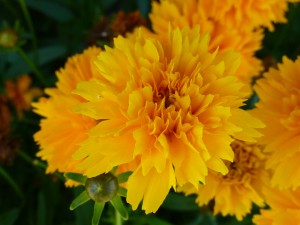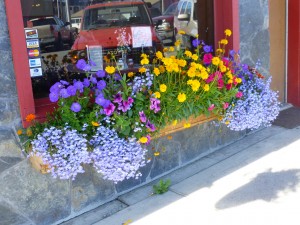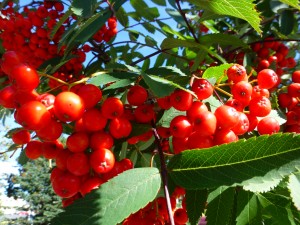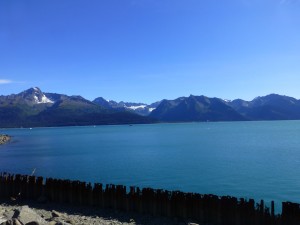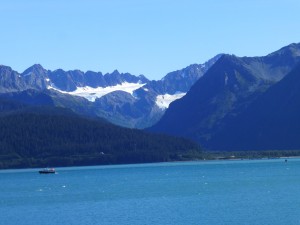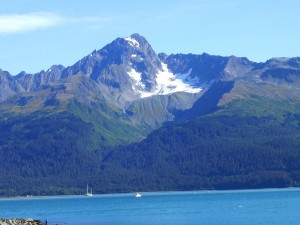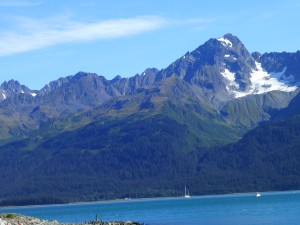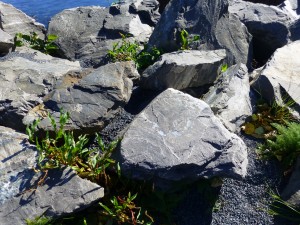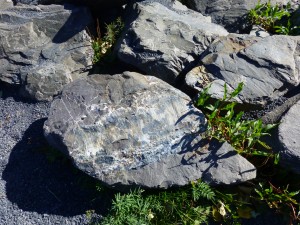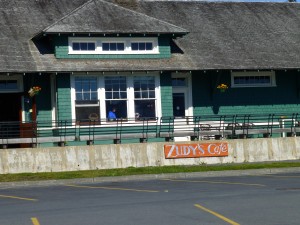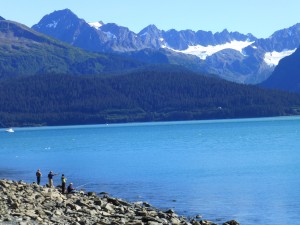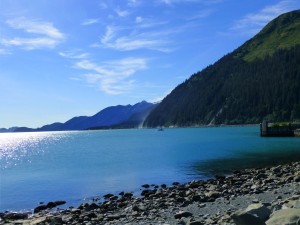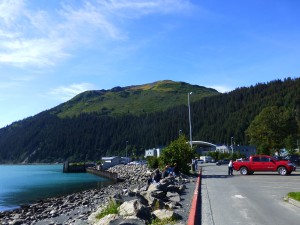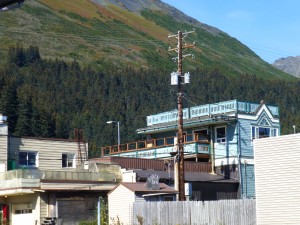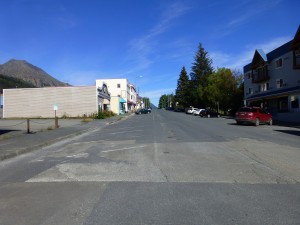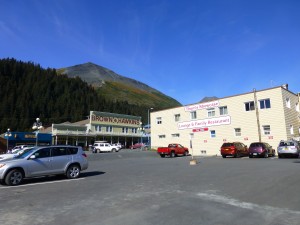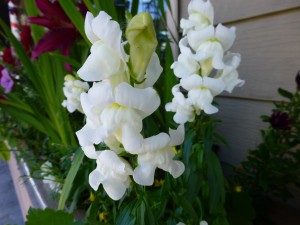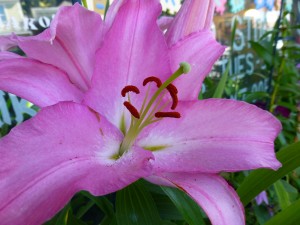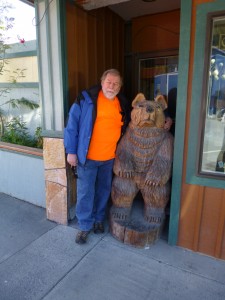 Didn't see any real bears but this one is cute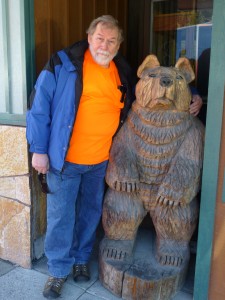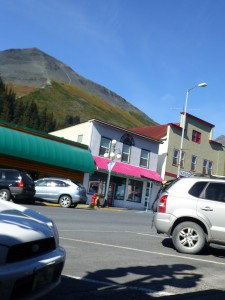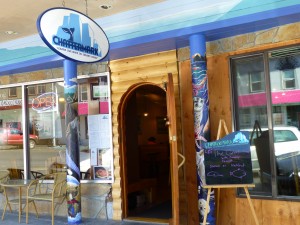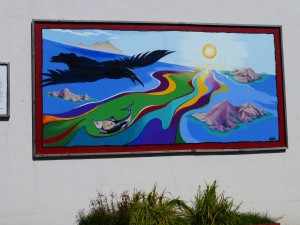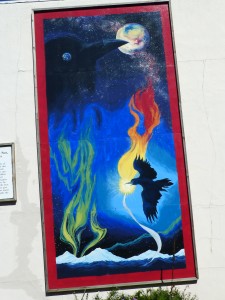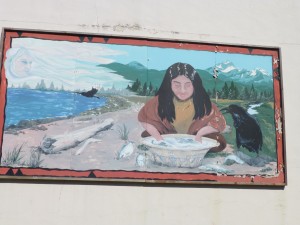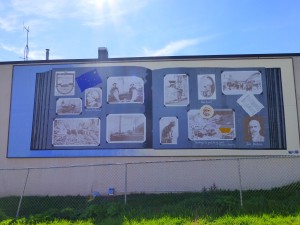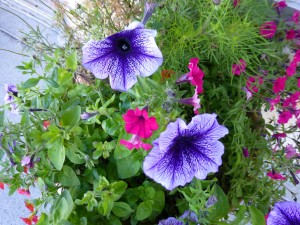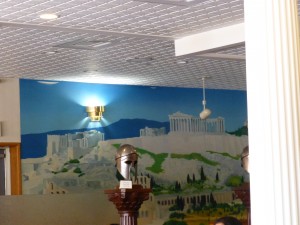 Seward, we found a Greek restaurant for lunch.
Alaska Rail from Seward to Anchorage, as taken from train.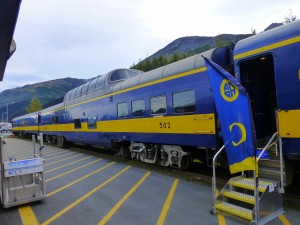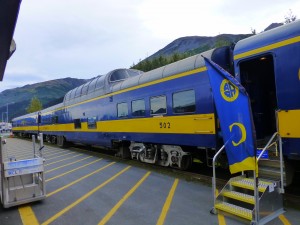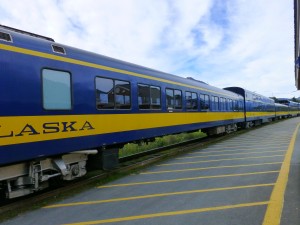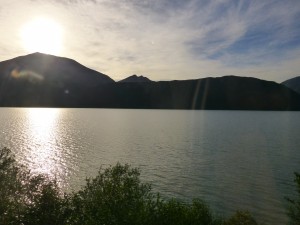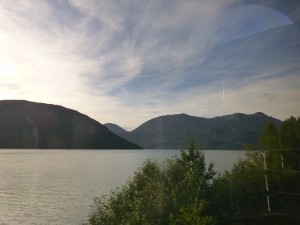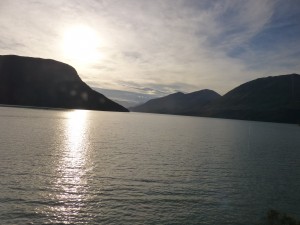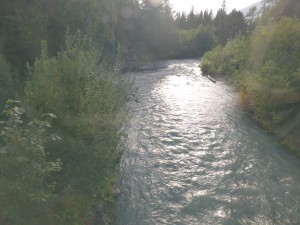 \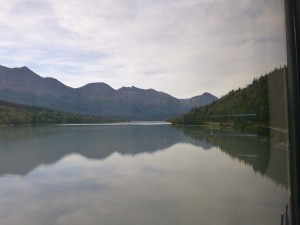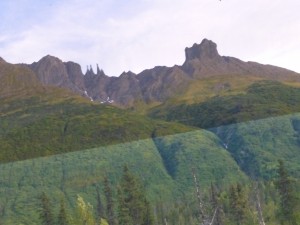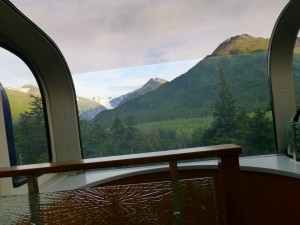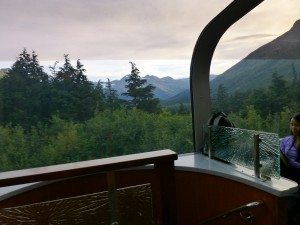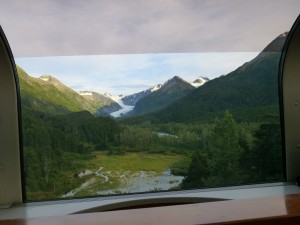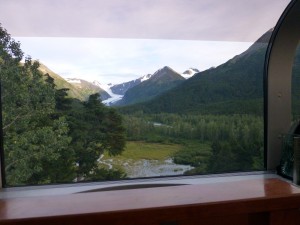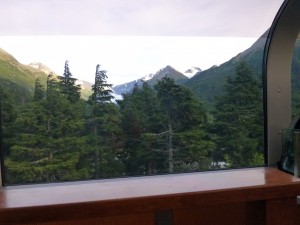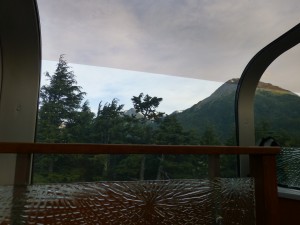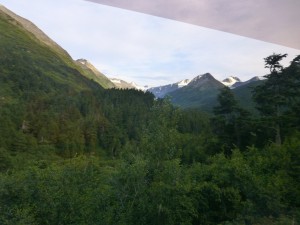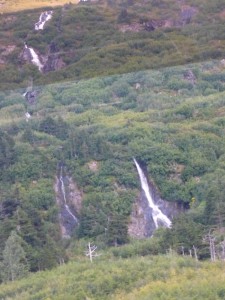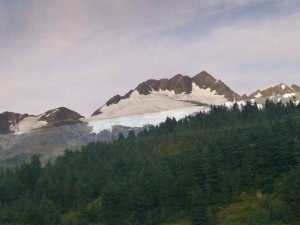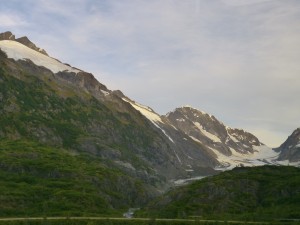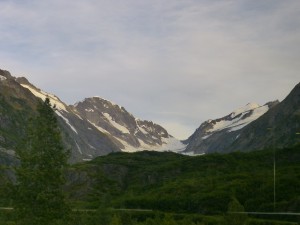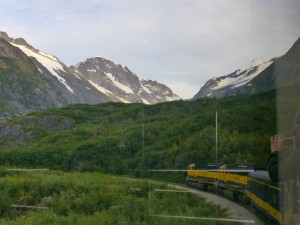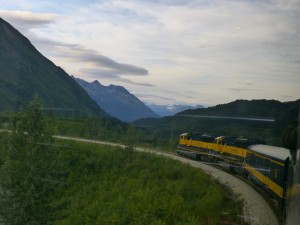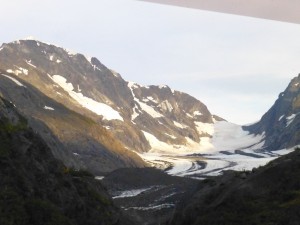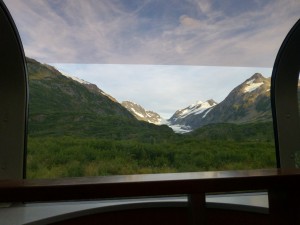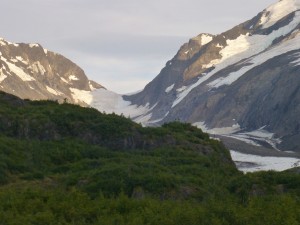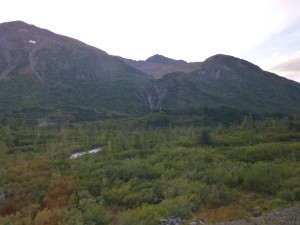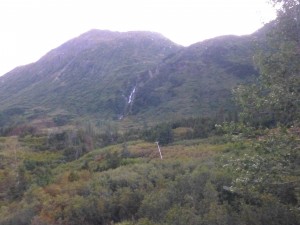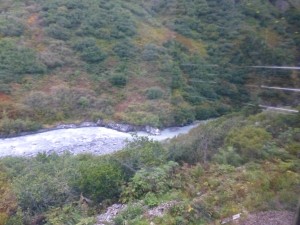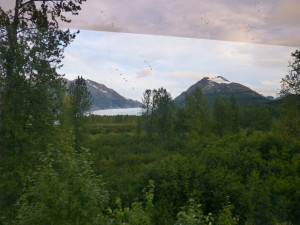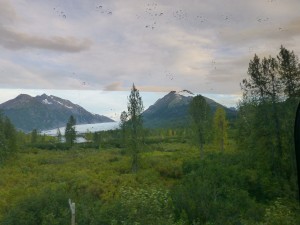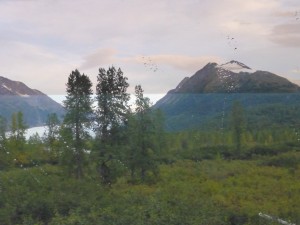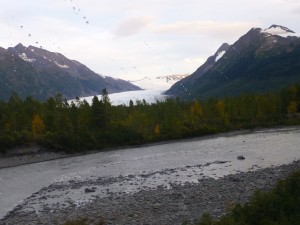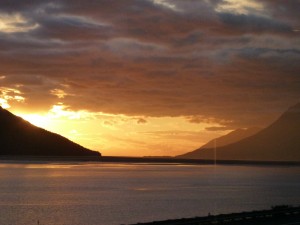 I tried to get some interesting colors from the train but they looked much better then this in person.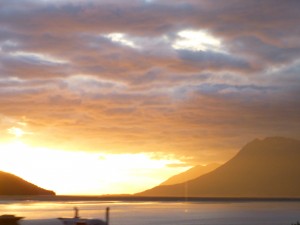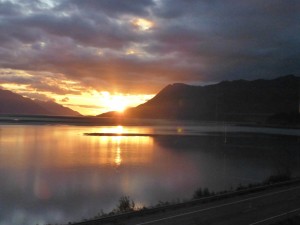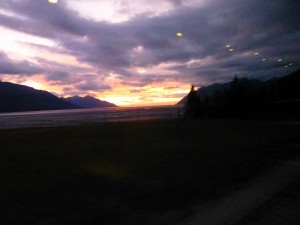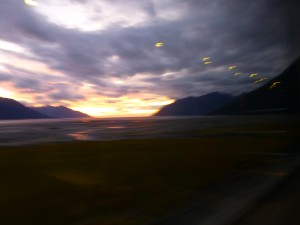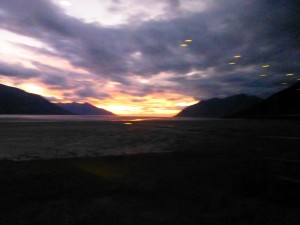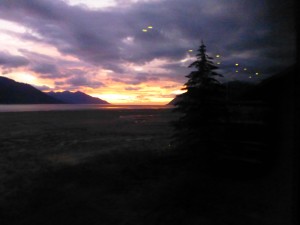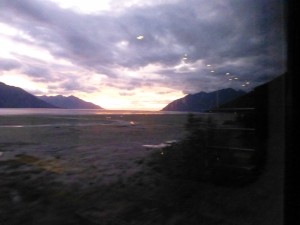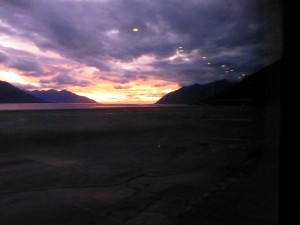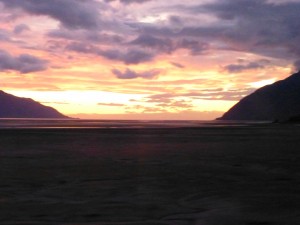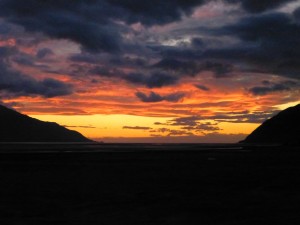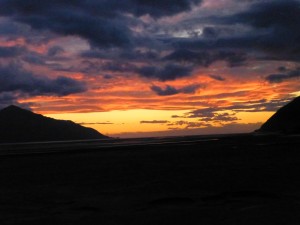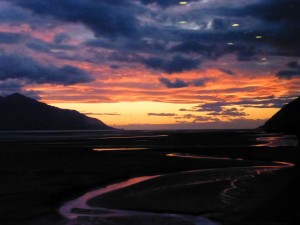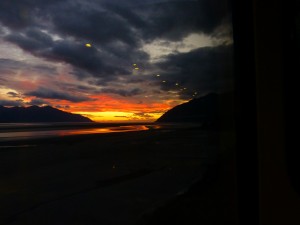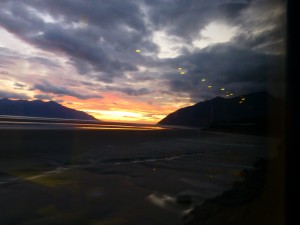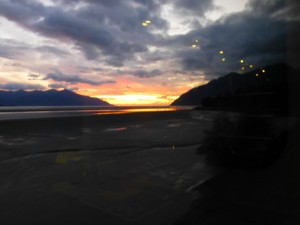 September 1-4 Anchorage, Alaska 
9/2/14  We took a trolley tour with good commentary on Anchorage. After the trolley we walked around a bit and then stopped for lunch/dinner. Anchorage is the largest town in Alaska, with military, seafood, port, oil & gas, and the tourist industry as the "gateway to Denali".

Flowers, momma moose and two baby calves.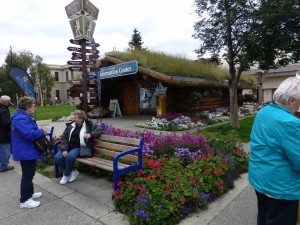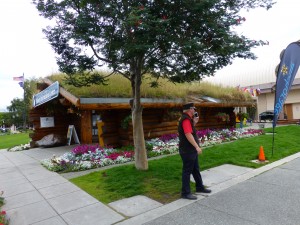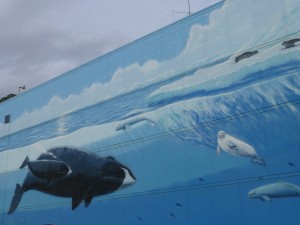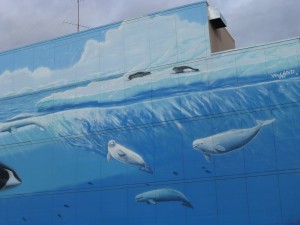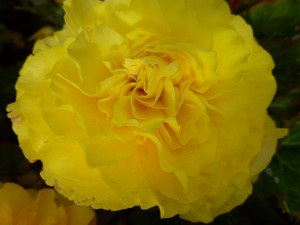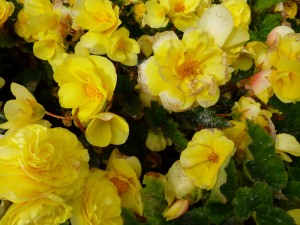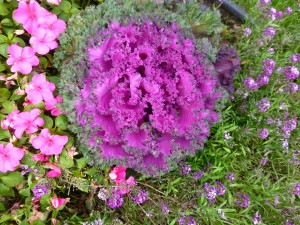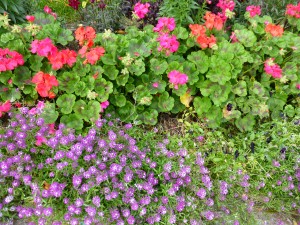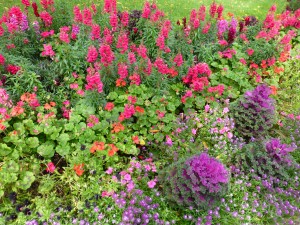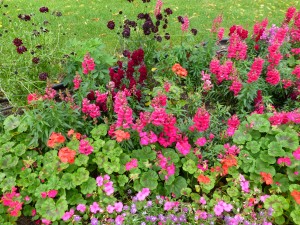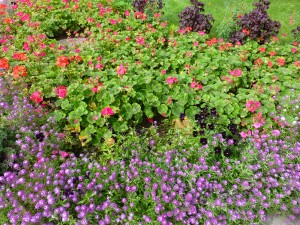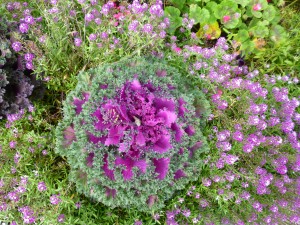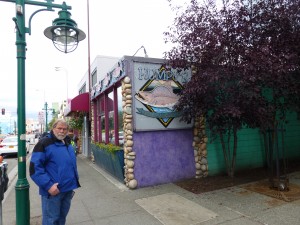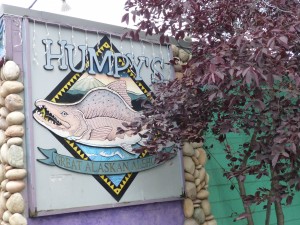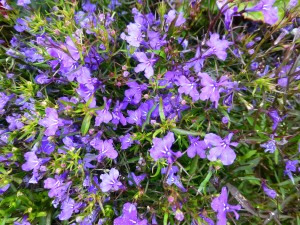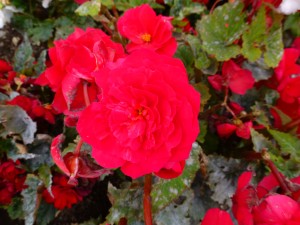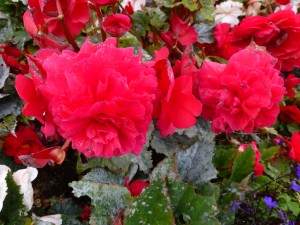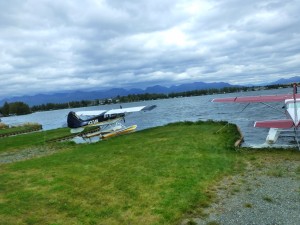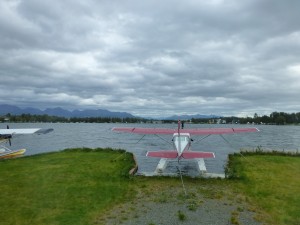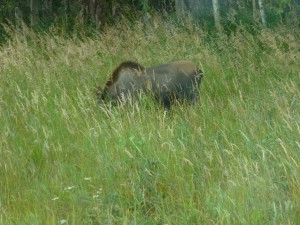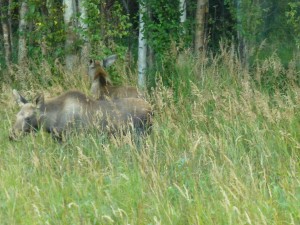 Mama moose and two babies. Downtown Anchorage.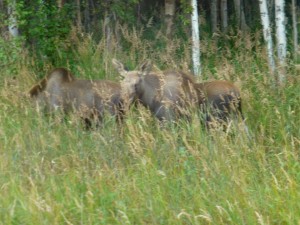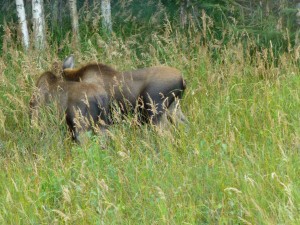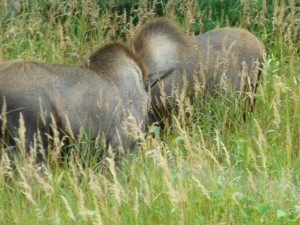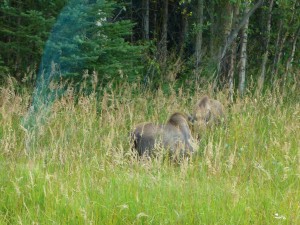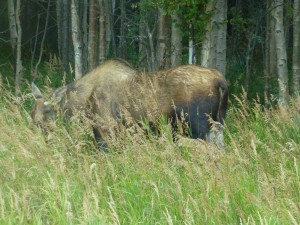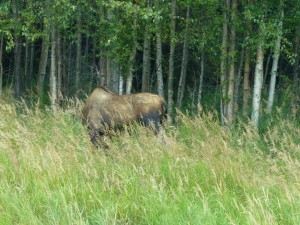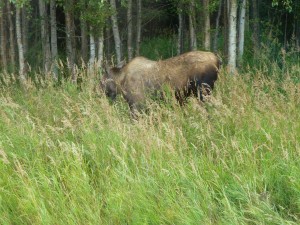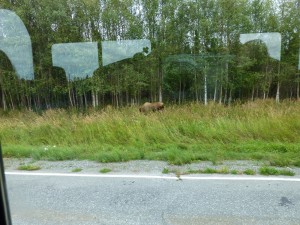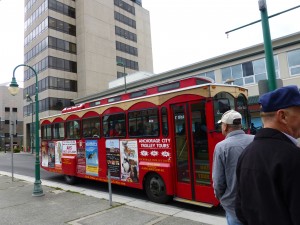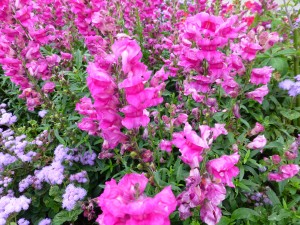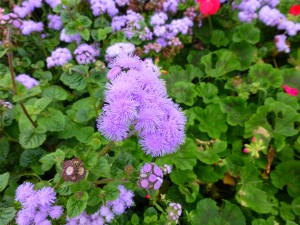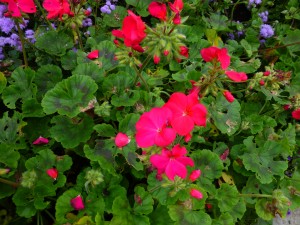 September 4-7 Talkeetna, Alaska.

Booked in Talkeetna     Jim only on this one (I'm not allowed to do this due to heart), unpressurized plane going to 12,000 feet.                     Talkeetna Air Taxi
This evening we ate at Talkeetna Roadhouse. Last night we had stopped there for some bakery items. I told Jim I wish I had my camera with me. The Roadhouse is lost in another time. Extremely quaint, pretty seedy looking, pretty good food, really good bakery.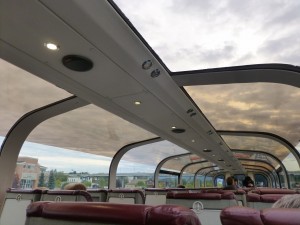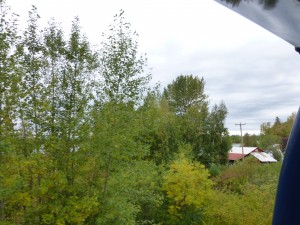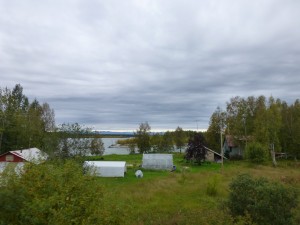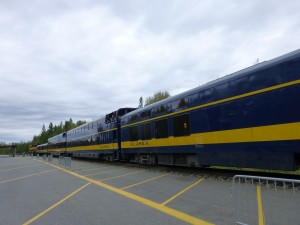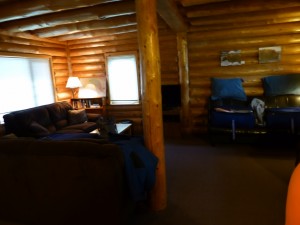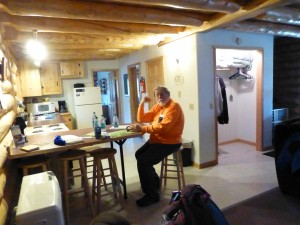 We had rented a log cabin in Talkeetna.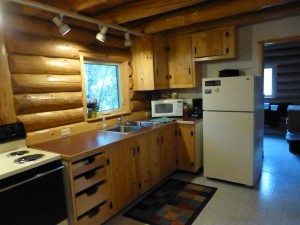 September 5, 2014. As has been obvious by a lot of the posted pictures, Mother Nature has not been too kind to us. Jim's Mt McKinley flight was cancelled today and re-booked for tomorrow. Hopefully we will get lucky towards the end of our time in Alaska, and have an actual sunny day.
September 6, 2014. Jim was picked up for his Mt McKinley flight so hopefully it is all good. I was going to go take pictures of this quirky little town but Jim needed my camera since his died early on in the trip. His flight did go today but due to fog and clouds they could not see the upper 2,000 feet of Mt McKinley.

Jim's Talkeetna Air Taxi trip to MT McKinley- 336 photos taken. See below for link to YouTube.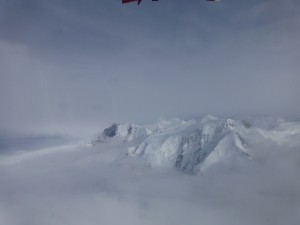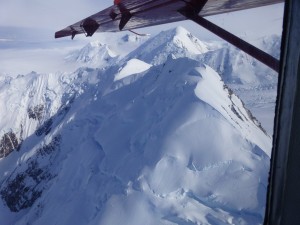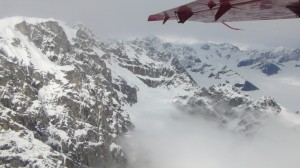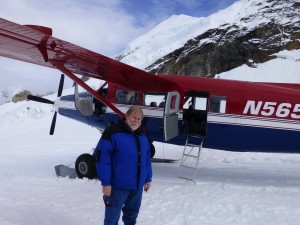 Jim standing on glacier landing. I made a video of Jim's Mt. McKinley photos, however because of the size of the video I have not been able to get it on here, however it can be viewed on YouTube- here:               Jim's Mt McKinley flight

Tomorrow we leave for Denali on Alaska Rail.
We have not booked anything for Denali, we are just going to wait until we get there. There is a rafting trip we want to take, so hopefully that will work out. Saw weekend Denali temperatures in the 30's, as Jim said, probably not going to make the river raft.

September 7-10 Denali, Alaska Photos for the remainder of September 7 – September 10 will be posted after we get home.
September 7 – Today we took the train from Talkeetna to Denali National Park, arriving late afternoon. Picked up at train station by the person we are renting a car from. Got the car business done and then came to check in to the motel.
I took about 40 or so pictures from the train on our way to Denali. I was just struck with how all of a sudden today you can see colors all changing. These pictures were taken through the train window, so have some reflections, but the scenery is really pretty. I am going to try to load just one picture from today and then I will catch up on when we are back in Anchorage on the 10th. Internet here is about 1/4 of a bar.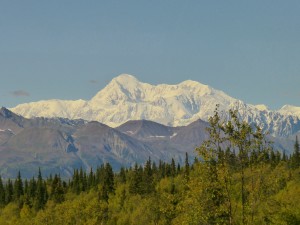 Denali National Park
September 8- We went to the visitors center today and watched a video on Denali and the changing seasons and balance of nature. It is a very nice V C.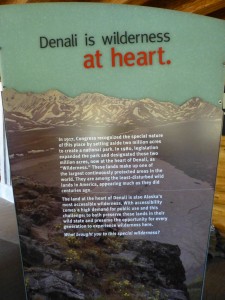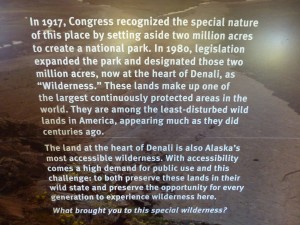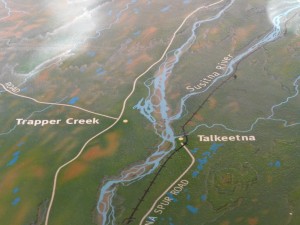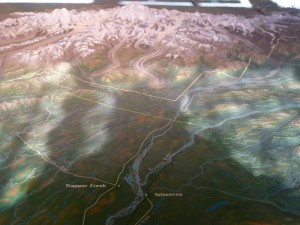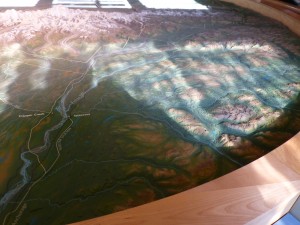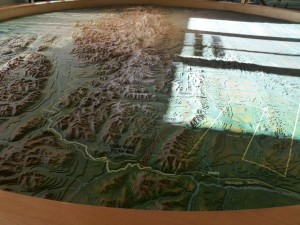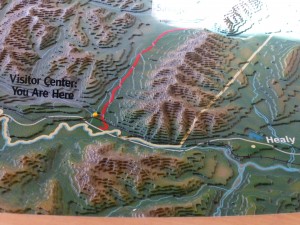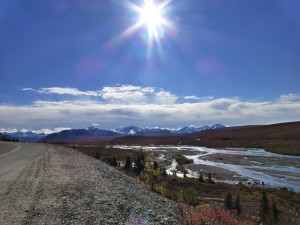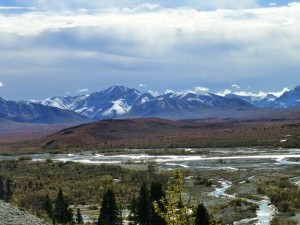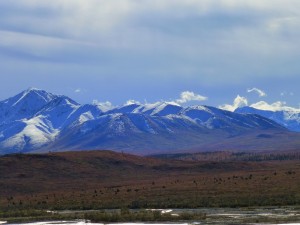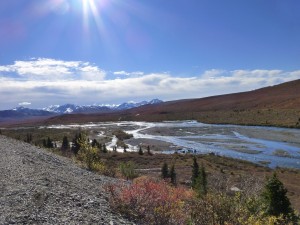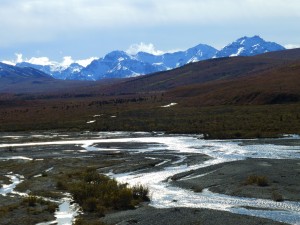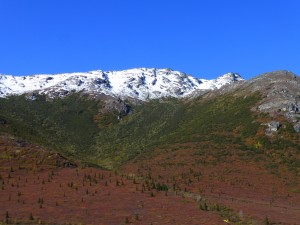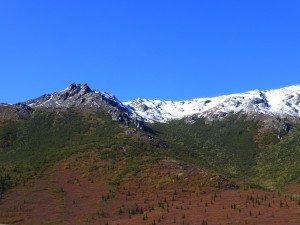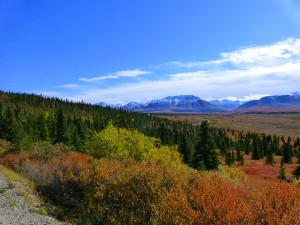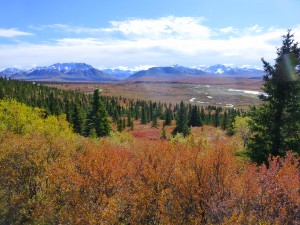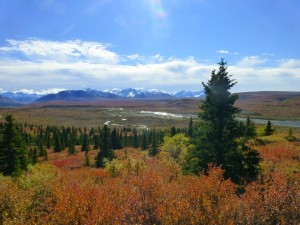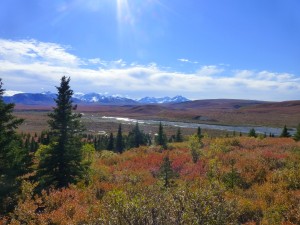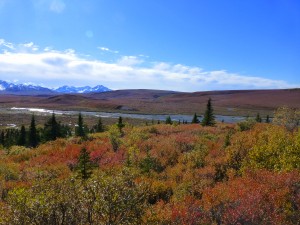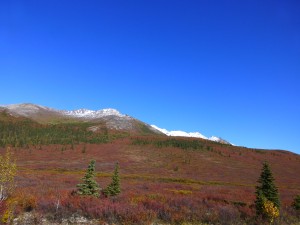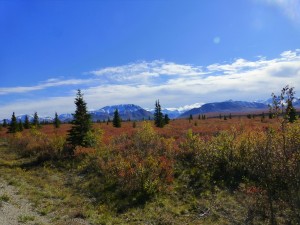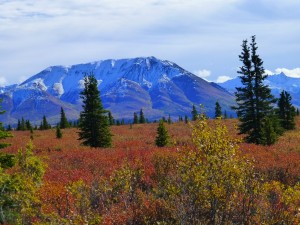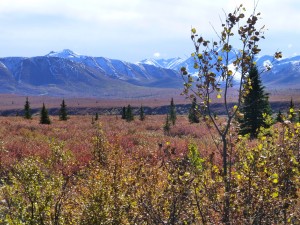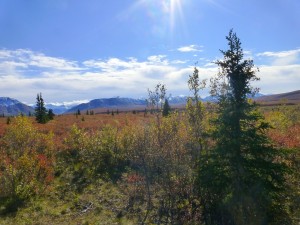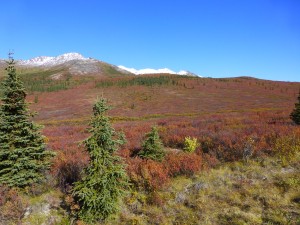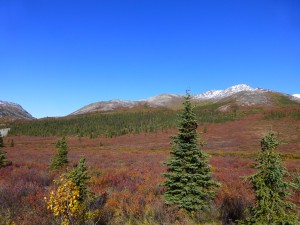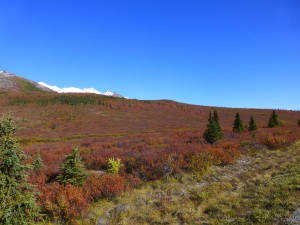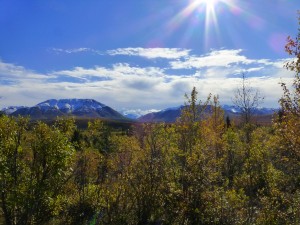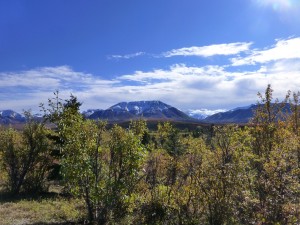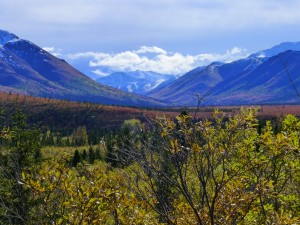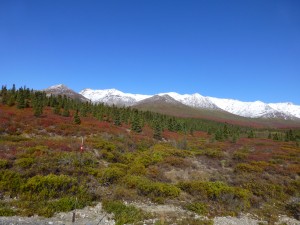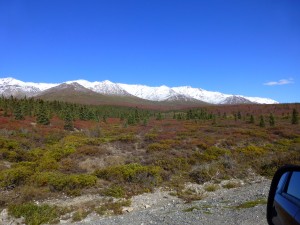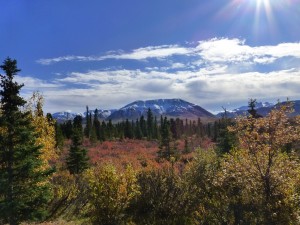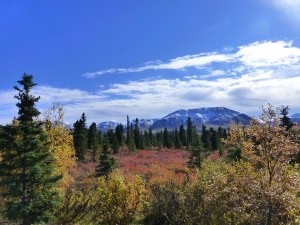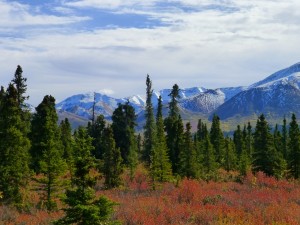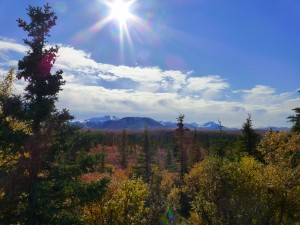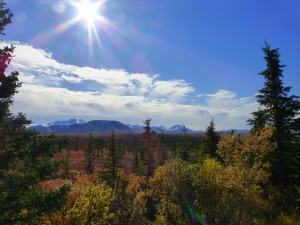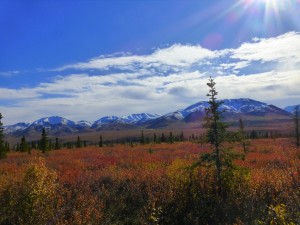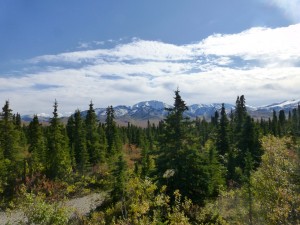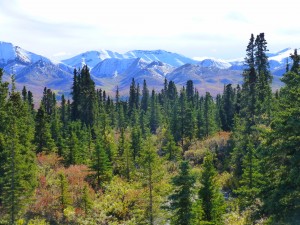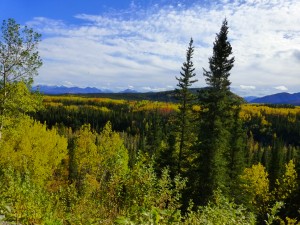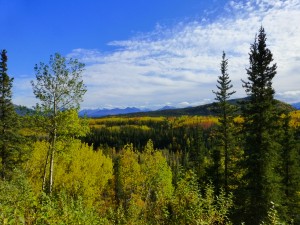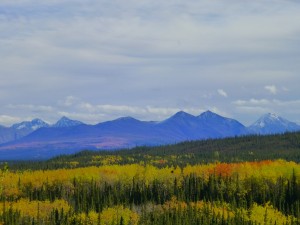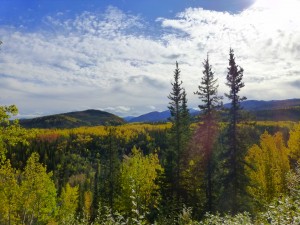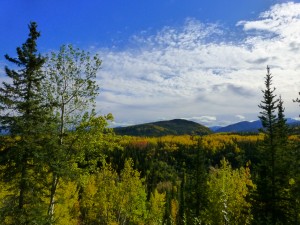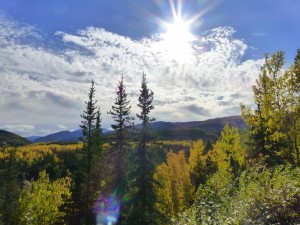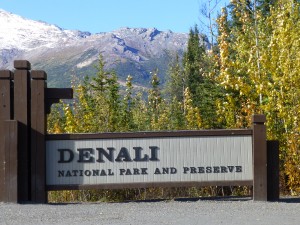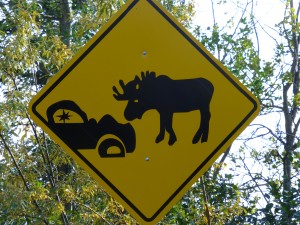 Some cute, but true, road signs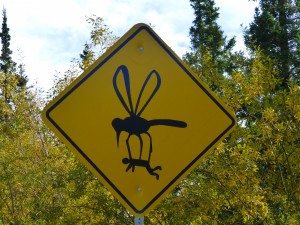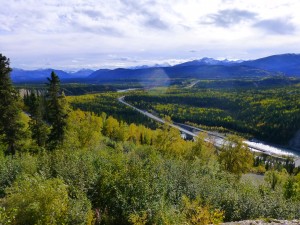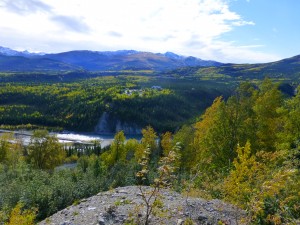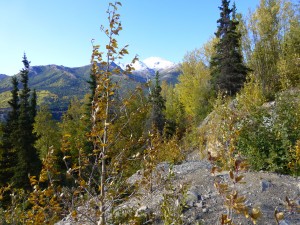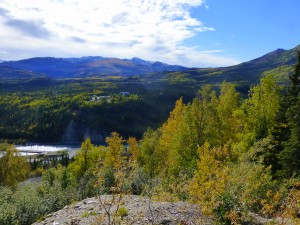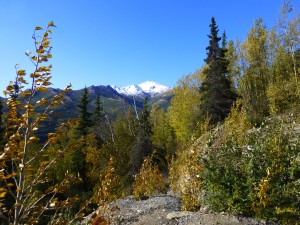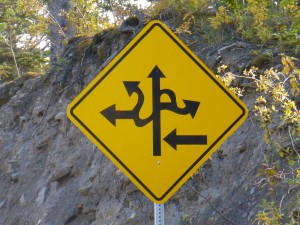 I got my National Park card, Jim already had one from his flight.
We drove the 15 miles in that private cars are allowed to go. Beyond that it is by tours 11-12 hours or shuttles 8+ hours. We had talked about doing this but decided the very old school buses for that long was more then we wanted to do.
We took some photos in the park, mostly to catch the changing colors. No plans tomorrow beyond checking out the area they call "glitter gulch". We will check out of the motel fairly early on the 10th and return our rental car, and then a long train ride to Anchorage.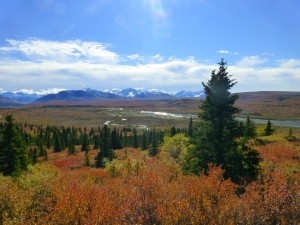 Final Alaska pictures- Denali National Park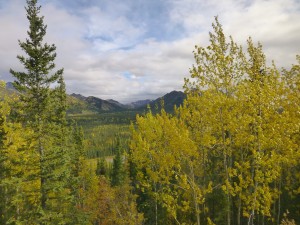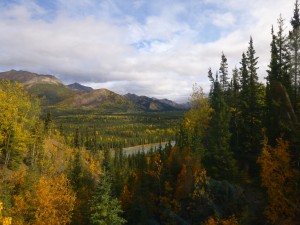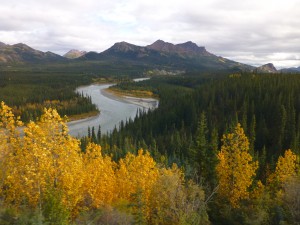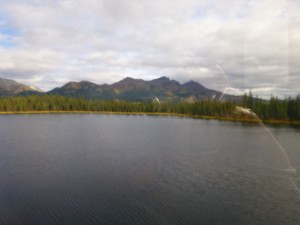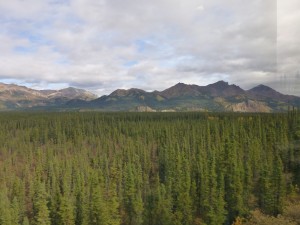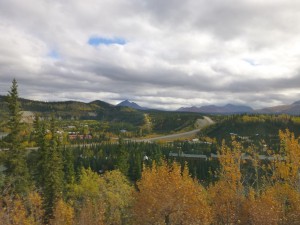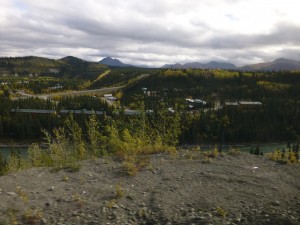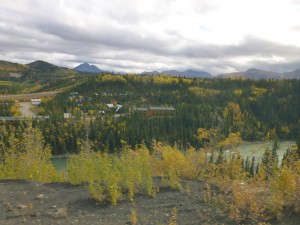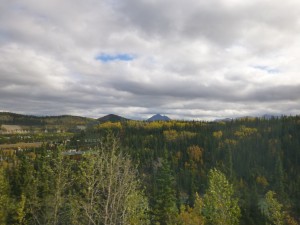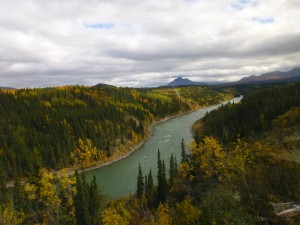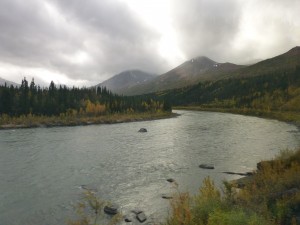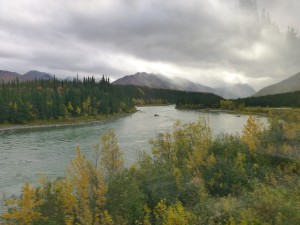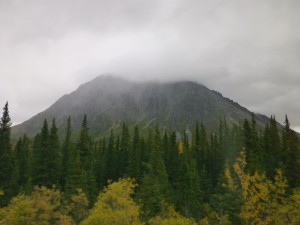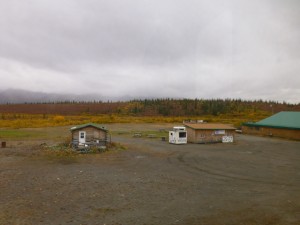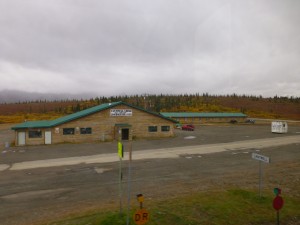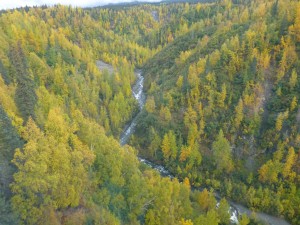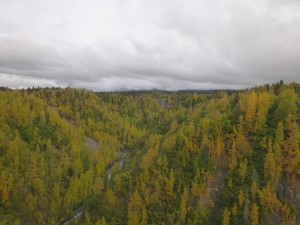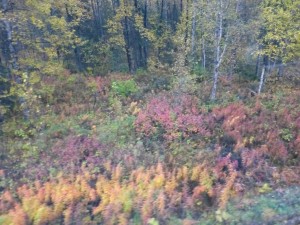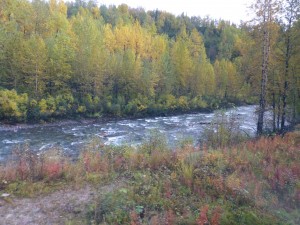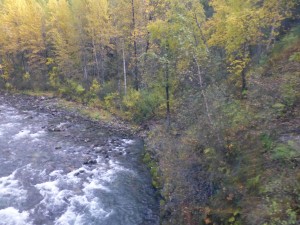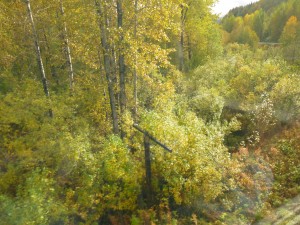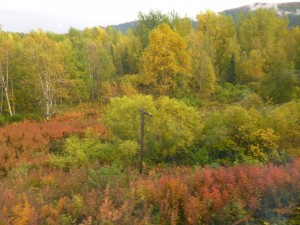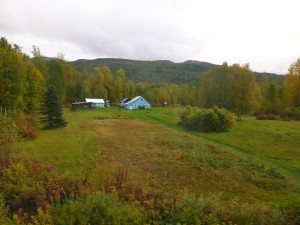 September 10-12 Anchorage, Alaska
Over all the trip was OK.  Due to the weather, which obviously no one can control, there were things we couldn't see or do, and other things that didn't happen.
Jim and I give it a rating of 7 out of 10.  In some cases that is because we weren't willing or able to do more then what we did. We are glad we went, but will not go back again. There are too many other places where we want to go.

September 12  Fly out of Anchorage to Vancouver on Air Canada spend the night in Vancouver at   Fairmont Vancouver Airport

September 13  Fly Air Canada –  Vancouver to Toronto                            change planes fly Toronto to Houston

Alaska 08/18/2014 – 09/13/2014