3/01/2015 Buenos Aires Argentina population about 3 million.
I had hired a guide through "Tours By Locals" for a full day tour of Buenos Aires on March 1. His name is Alejandro, goes by Alex, and he is a terrific tour guide. He obviously knows his city and loves it. He showed us so many out of the way places we would really never have known to look for. 
There are really huge parks everywhere, and most of them have the usual things you find in a park, like children's play areas, floral gardens, picnic and BBQ areas, and benches etc.They also have dog park areas and even areas with work out gym equipment for those who can't afford a "health club". This is free to all.
Argentine residents also have free health care, and many of the parks have nurses and can preform basic medical testing also. School is free from kindergarten through college. Their sales tax is 21% and income tax from 9% to 21%.
 The city of Buenos Aires was designed by French architects, has a European look to the older buildings and some of the widest streets in the world.
On the other side of that coin there are literally tens of thousands of "sub standard housing" where people are living or squatting.We saw mile after mile of these huge and many storied buildings that had partially burned or fallen apart. Been severely damaged and never repaired.
I have never seen the sheer vastness of slums that we saw. This was on our trip from the International airport to our hotel on February 11. Many with no utilities, some with TV Dish attached. My impression is that in Buenos Aires you are either wealthy or impoverished.
Until our day with Alex on March 1 the above was my total opinion of Buenos Aires. Alex did show us a lot of what is being done to restore buildings for homes, but with the volatility of the Argentine Peso it is hard to imagine a lot of improvement. Alex said unemployment was about 8%. Of course as we know in our own country, that is likely only these actively seeking employment.
The value of the Argentine Peso changes daily. There is the "bank rate" the "blue rate" and the "black market". As an example, the day we arrived in Buenos Aires the bank rate was 1 USD= 8.69 Argentine peso. Blue rate 1 USD= 12.28 Argentine peso, we don't know what the black rate was.
The advantage to an American tourist is to exchange USD for Argentine pesos blue rate and pay your hotel and other items with pesos. An American would have been charged by the hotel in USD at the bank rate, so this is a substantial savings.
Here is a small part of Alex's Buenos Aires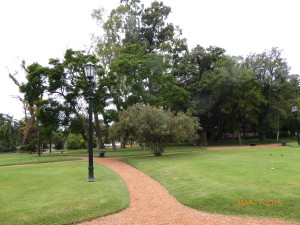 ©2014 Jeannie Wehrman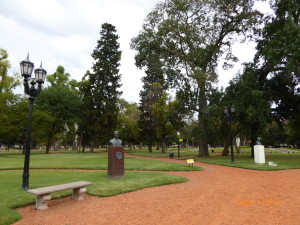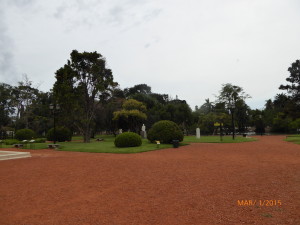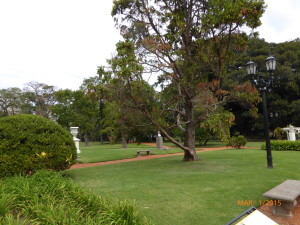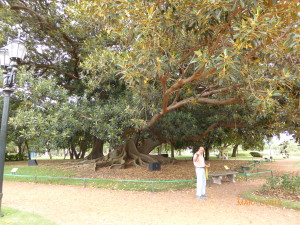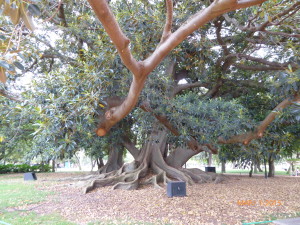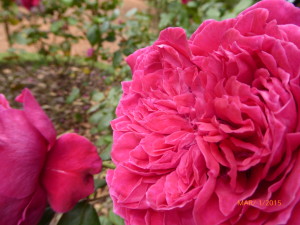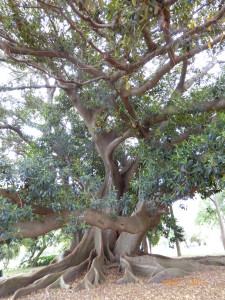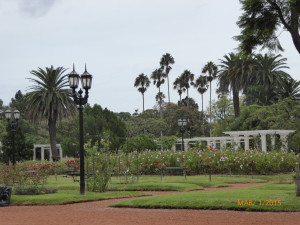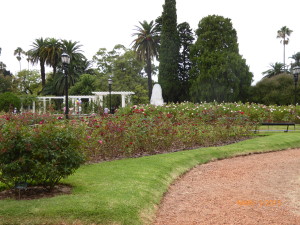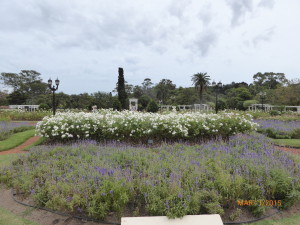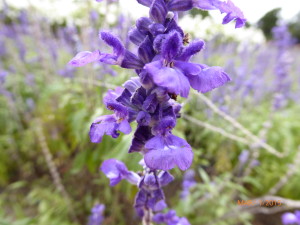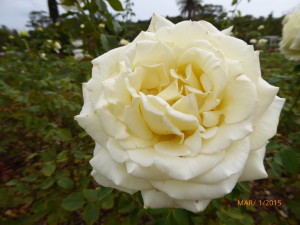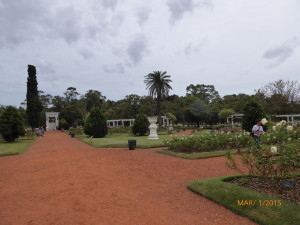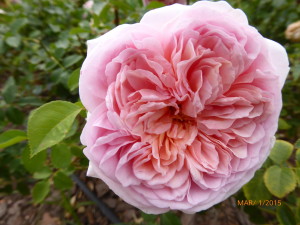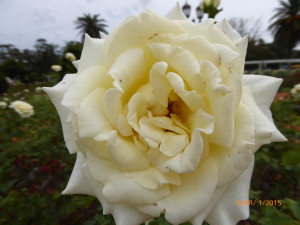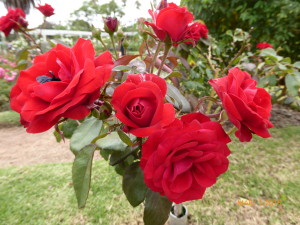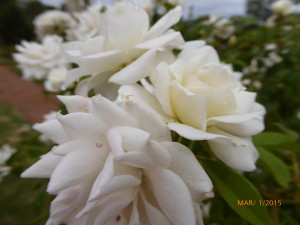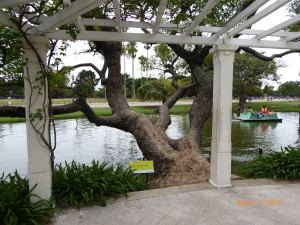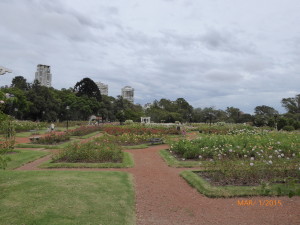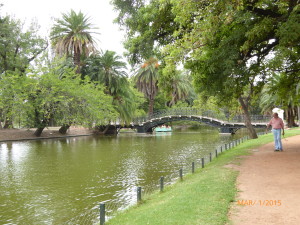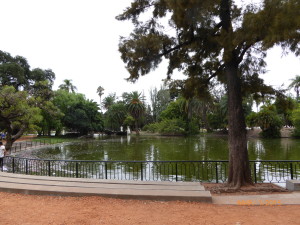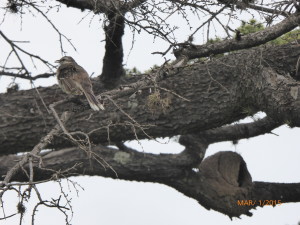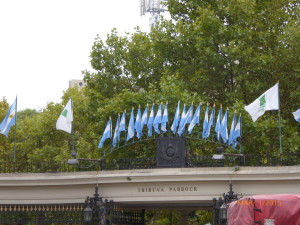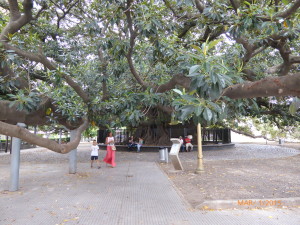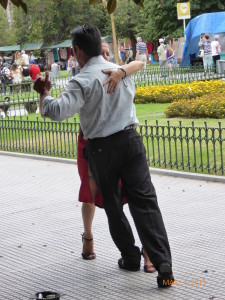 Tango street dancers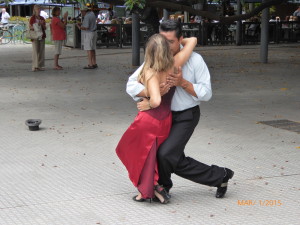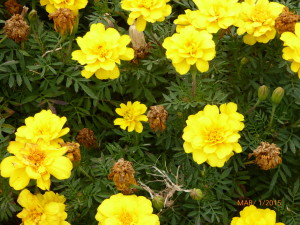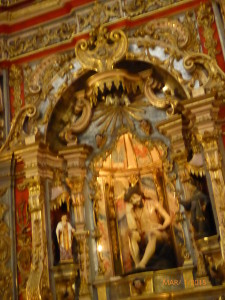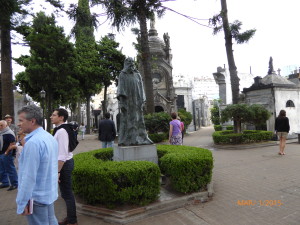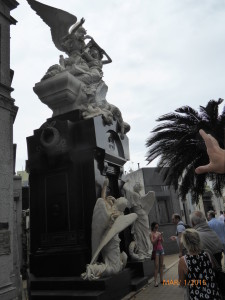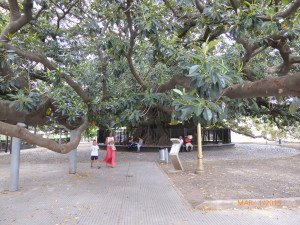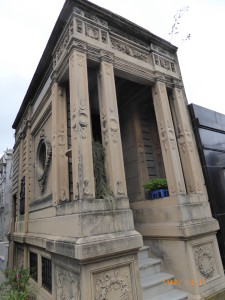 Famous Ricoleta Cemetery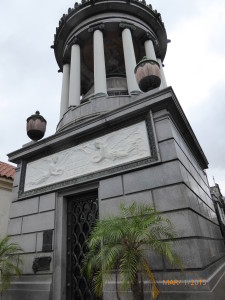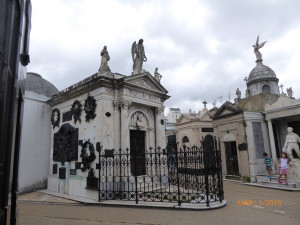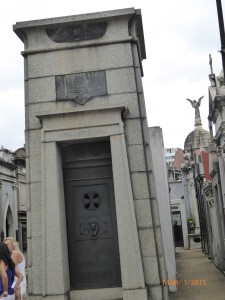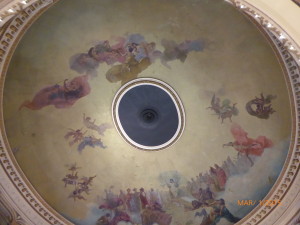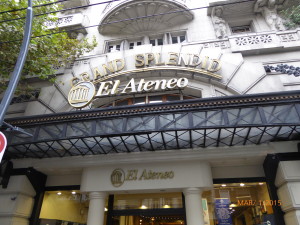 Book store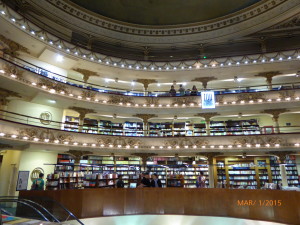 Fabulous book store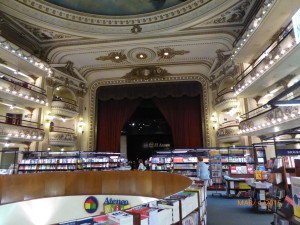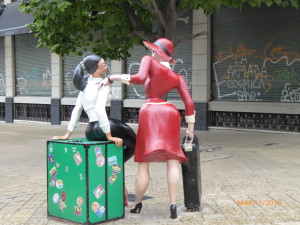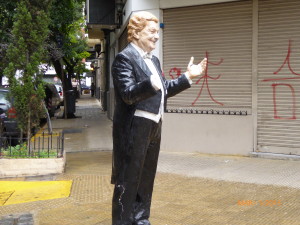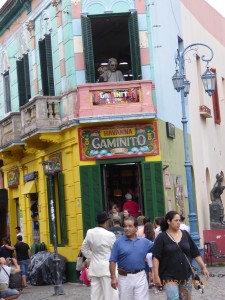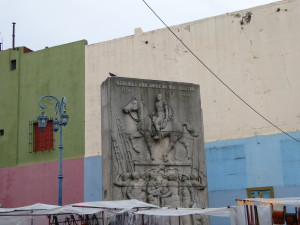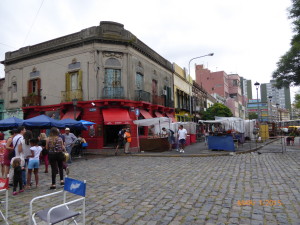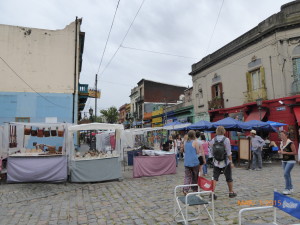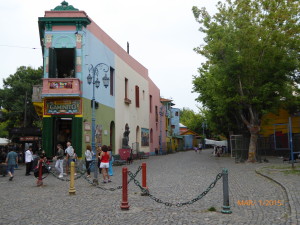 Part of old town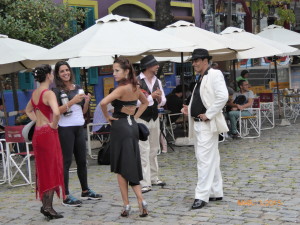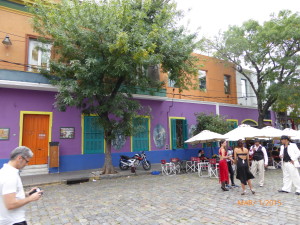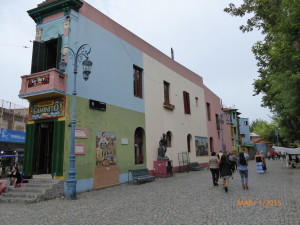 3/02 /2015 Buenos Aires  
 Tigre Delta is a group of islands with homes anywhere from just a tin roof to very nice family homes. In some areas there are very few services, in other areas there are.  There are services such as grocery delivery and trash carry out, all by boat of course.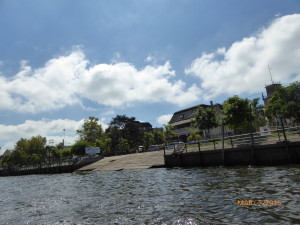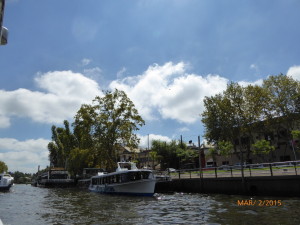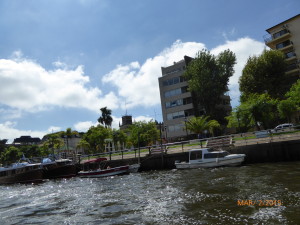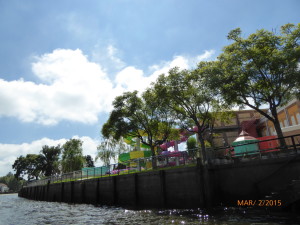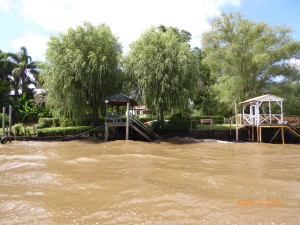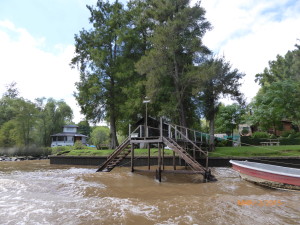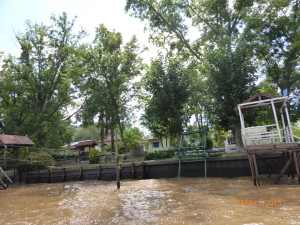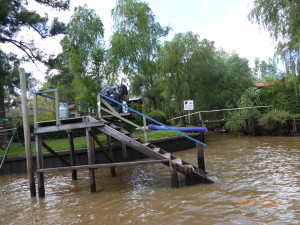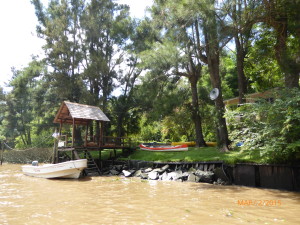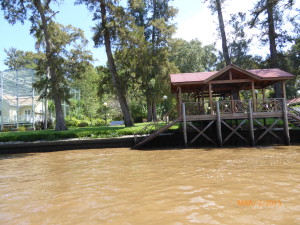 3/03/2015   2nd visit to Montevideo, some different locations.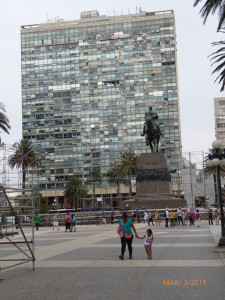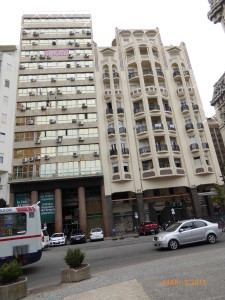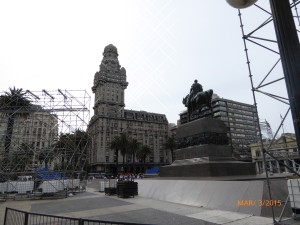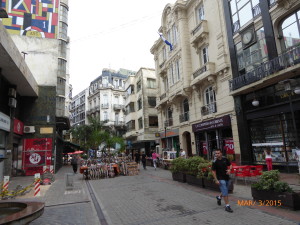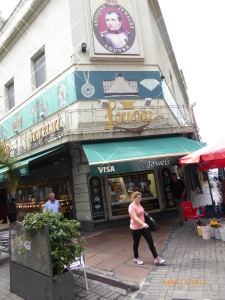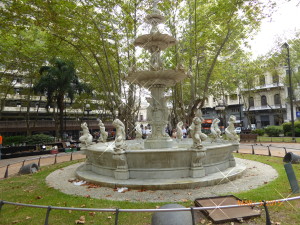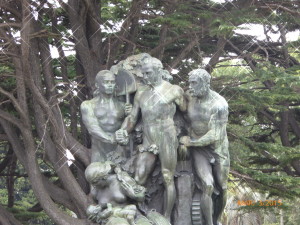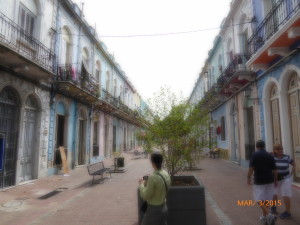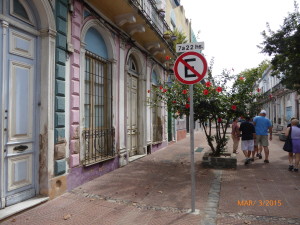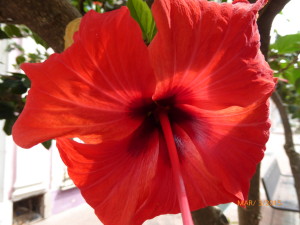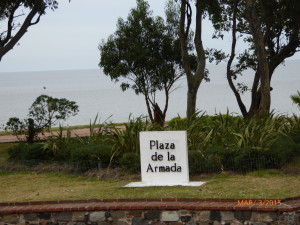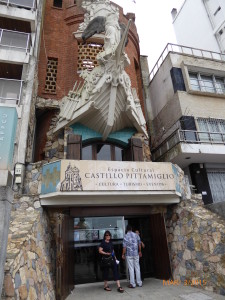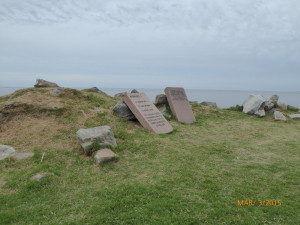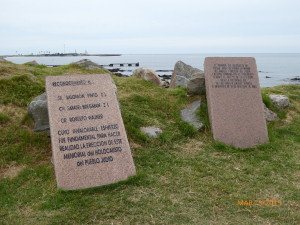 This is part of the Holocaust Memorial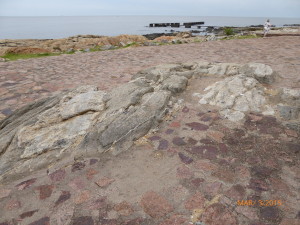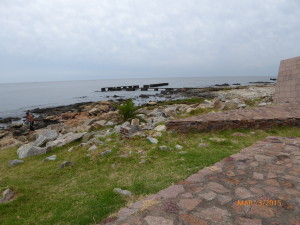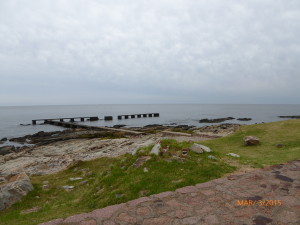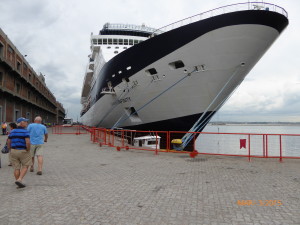 Arriving back to our ship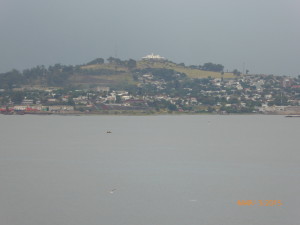 Looking across to Montevideo
3/04/2015  Punta del Este
Today we decided to stay in and slept  late. Pictures taken from our balcony.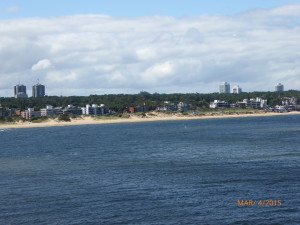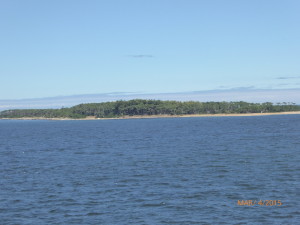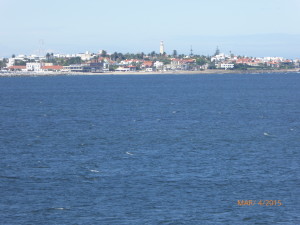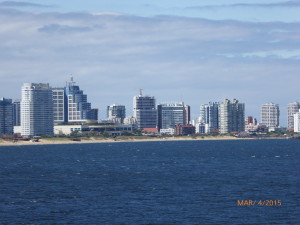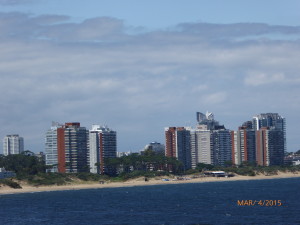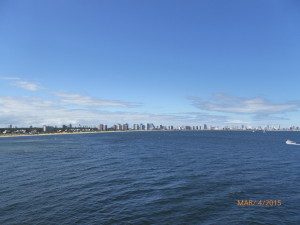 3/06/2015  Puerto Madryn, Argentina second stop.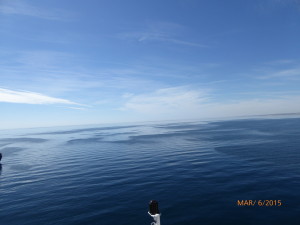 From our balcony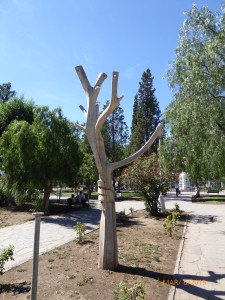 The trees are carved, doesn't show  up much on pictures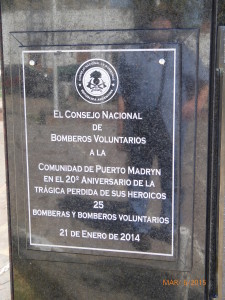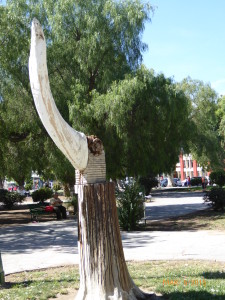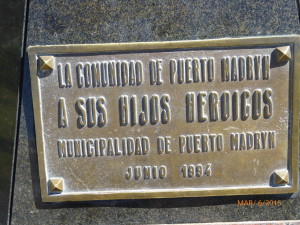 I had some other Puerto Madryn pictures, but couldn't get them to load.
 3/07/2015  Cruising at sea
3/08/2015 Cape Horn Chile        Take a look at map here.
Tiffany asked me a question about the winds and seas we are in so I thought posting some info might help.
This is our 4th and final journey across the "end of the world", see link above.
Jim braved the cold and wind two periods for about an hour each. Winds were 50 knots gusting to 60 (70mph). Temperature 30F.  Jeannie stayed in the Oceanview Cafe with hot chocolate and watched from there.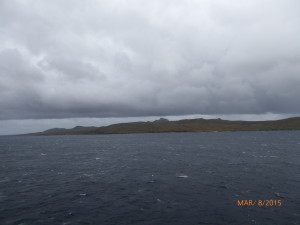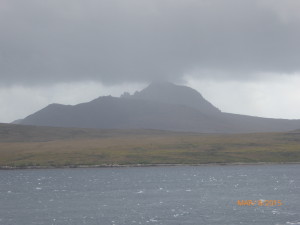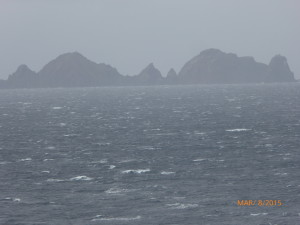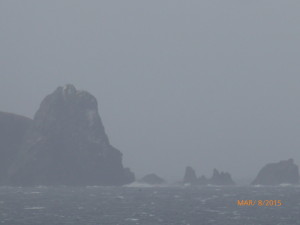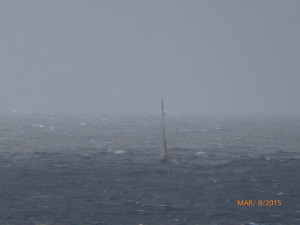 Can you see the mast of the sail boat? There were some pictures when the sailboat was clearer but they won't load. Maybe it was a phantom boat??
3/09/2015  Ushuaia Argentina second visit, Jim bought a tshirt and I slept in.
3/10/2015 Punta Arenas Chile
Today we had booked an excursion North on the Brunswick Peninsula along the Straits of Magellan then to Otway Sound. 
_____________________________________________________________________
________________________________________________________________________
_________________________________________________________________________
________________________________________________________________________
__________________________________________________________________________
________________________________________________
 _______________________________________________
_______________________________________________
 _______________________________________________
 _______________________________________________
________________________________________________
_______________________________________________________________________
________________________________________________________________________
________________________________________________________________________
_______________________________________________
 ________________________________________________
_______________________________________________
 ________________________________________________
 ________________________________________________
________________________________________________
________________________________________________
________________________________________________